The Fitbit Charge HR is a superpowered tracker that offers continuous heart rate monitoring for better estimation of your daily activity, workouts and sleep.
But does the Fitbit Charge HR live up to rivals, such as Fitbit's own Surge, and what kind of bar does it set for the long awaited Jawbone UP3? We put it through its paces to find out.
1
Fitbit Charge HR: Design
The overall look of the Charge HR is impressively sleek and it blends in with pretty much any outfit, be it in the office or on the weekend. It's discreet and the textured rubber looks smart, and dare we say it, fairly unisex.
The Charge HR is available in a range of colours – plum, blue and tangerine; needless to say that none of these variations are available as yet. The screen also matches the colour of the band too, so it doesn't stick out like a sore thumb.
That screen happens to be a monochrome OLED display, and it's really vibrant and easy to read, despite being roughly the size of a fingernail. It shows the time, daily steps total, distance travelled, calories, flights climbed and of course your heart rate and you cycle through those metrics using the button to the left.
The clasp is a normal watch affair, with a small buckle that everyone's familiar with, attached to a rubber strap.
Now, users initially complained of skin irritation issues, which we reported last year. Fitbit's response was to urge users to take breaks from their band and to keep it clean.
Well, I followed that advice and still suffered some irritation after bouts of exercise. It's not an problem isolated to Fitbit, but this is probably as bad as I've experienced. That said, editor-in-chief Paul suffered no irritation at all, so we'd recommend anyone with even remotely sensitive skin to think carefully before they buy.
Other than the mild scabbing, the Fitbit was actually comfortable to wear. It doesn't feel like a set of medieval leg irons, like the Microsoft Band, and it was comfortable enough to sleep with.
2
Fitbit Charge HR: Features
Advanced tracking is the name of the game, and the Fitbit Charge HR records all the usual statistics, each on enriched by heart rate data. It will track your daily steps and calories by day, and monitor your sleep by night. Unlike older Fitbit devices, you don't have to tell it you're planning on snoozing, and sleep mode will kick in from your movements and heart rate data.
The Fitbit Charge HR also enables you to track exercise, and by holding the button on the left, you can put the band into 'stopwatch mode,' which means it starts tracking your training sessions – but more on that later.
The final feature is caller ID, a sort of smartwatch-lite feature. The band buzzes when someone calls your smartphone, and the name of the caller appears on the screen. There are no other notification features, and while it's useful to check whether a call is important before reaching for your handset, it's not exactly a game changer.
The Fitbit Charge HR is 1ATM water-resistant, which is fine for the shower but don't wear it in the bath or a pool. That of course precludes swimming, so fans of the pool should look to devices like the Misfit Shine.
3
Fitbit Charge HR: Activity tracking
Like every fitness tracker out there, the Fitbit Charge HR mainly keeps tabs on steps and calories. We did find the number of steps to be slightly high in some early days of testing, but the rest of our week looked extremely normal, and in line with other devices.
There's no GPS built into the Fitbit Charge HR, which puts it behind the likes of dedicated running watches and it's big brother, the Fitbit Surge.
Without GPS, the tracking of running and cycling is never going to be accurate in terms of distance or pace – but unlike other non-GPS trackers, such as the Withings Activité or Garmin Vivosmart, the Fitbit doesn't even attempt to guestimate distances.
We went for a run with the Fitbit Charge HR using the stopwatch mode, and tagged it as a run on our return. The feedback showed heart rate information, calories burned and time taken, but no had details on pace or distance.
Casual runners who are looking to lose weight might find the lack of pace and distance a plus, as they can just get down the business of shredding calories, but dedicated runners will certainly feel shortchanged.
The benefit of the Charge HR however, is for other activites. While many GPS devices are so focused on running and cycling that they ignore gym work, the Charge HR embraces it, and enables you to get accurate details of your workouts via the optical heart rate monitor, that uses a bright LED to 'see' the blood pulsing through your wrist.
We tested the heart rate information in the gym, while strapped into some of the machines, and found the Fitbit Charge HR to be generally spot-on, which is impressive.
When you start exercising, you hold the side button to start the stopwatch. Then you get on with your exercise, before repeating the button hold to stop the tracking when you're done. Next, you go to the app and tag the exercise. We tried a spinning class, and sure enough, spin was in the extensive list of taggable activities. The same goes for weights, football, hockey, dancing – the lot.
Of course, telling the Fitbit Charge HR that last hour was a spin class doesn't change the details. Any exericise is simply a calculation of the time taken and your heart rate to work out your calorific burn. Your heart rate dictates how many calories you burned, not the activity, so the tagging just ensures the period is properly named.
Unfortunately, the app doesn't add up all those spin classes or football matches to show any improvement as you get fitter – which is the great problem with fitness wearables; lots of data, not a lot of insight.
4
Fitbit Charge HR: Sleep tracking
As we mentioned, sleep tracking is now performed automatically on the Fitbit Charge HR, which means no more missed nights of sleep.
It's relatively simplistic tracking, bordering on the pointless. The graph shows a blue block, which is your sleep duration. The total time is listed in the app, along with the day's stats. The block isn't coloured to designate deep or light sleep as with other sleep trackers, but there are lines that mark when you toss or turn.
It's a remarkably simplistic sleep tracking feature that's surprising for a leader like Fitbit, yet as we've repeatedly said, sleep tracking is one of the least useful elements of fitness trackers. There's very little to learn about your sleep patterns, short of making sure you get your eight hours every day – which the Fitbit is more than capable of.
If you're keen to see detailed sleep patterns, the Withings Activité Pop or Misfit Shine will do a better job.
5
Fitbit Charge HR: The app
While not as in depth as the Withings Health Mate app, or as open as the Jawbone one, the Fitbit Charge HR's app is clean, simple and easy to use. It's quick to sync, with no frustrating pairing problems.
When you open the app, you're presented with all your data from the day, including steps, heart rate data, distance travelled, calories burned, stairs climbed, amount of 'active minutes', bursts of stopwatch captured activity and sleep.
There are plenty of metrics to sink your teeth into, and that's without the additional food tracking, food plans and weight tracking which requires manual daily inputs – a step too far for us.
Any metric can be tapped to show historical data, and weekly totals. That's especially useful for 'active minutes' which is the amount of time spent in the day with your heart rate elevated. Upping this total means you're getting fitter.
Delving into the app further will reveal plenty of controls, where you can fine tune the device to your dominant or non-dominant wrist, and turn on the caller ID notifications.
You can also challenge yourself to beat certain step goals in the challenges tabs, and even invite friends to participate, too. It's a good idea, although we were disappointed by the selection of goals. Each of the four challenges simply involves walking more, not burning more calories or racking up more active minutes of exercise. Those seem far more meaningful, and thus far, don't exist within the Fitbit app.
6
Fitbit Charge HR: Battery life
Given the continuous heart rate monitor flashing away under the device, battery life is impressive. You should be able to get five days easily from the device, and we found it easy to keep topped up.
Of course, after recently testing the Withings Activité and Misfit Flash – both of which boast battery life in the months rather than days – charging is a bit of a hassle. But neither of those devices can touch the Charge HR for its workout tracking.
There's a proprietary cable that magnetically hooks into the back of the device. Of course, if you lose that cable, you're stuffed, but we're sick of complaining about this seemingly ubiquitous wearables issue, and it's not an issue confined to the Charge HR.
---
PROS:
Comfortable design
Tracks nearly all exercises
Accurate heart rate tracking
Smart caller ID feature
CONS:
Run tracking severely lacking
Simplistic sleep tracking
Half baked challenges
Not waterproof
---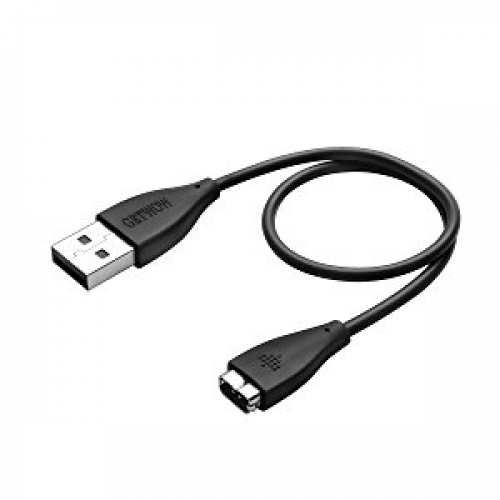 100% New and High Quality; This Cable Only Works for the Fitbit Charge HR, NOT for the Fitbit Flex / Charge / Surge /Force / One. Please pay attention to it before your purchase; Extra Replacement Charging Cable to Give Your Fitbit Charge HR Wristband a Boost in the Office,at Home or in Travels;...
Deals
Photos
Last comments
I bought this to have as an extra charger to keep at work. I do most of my sitting during the day at work, so I figured that would be one of the best times to charge my Fitbit, seeing as how I'm just sitting for extended periods of time. I read the reviews and was concerned but it's under $10.00 and I have Prime, so no shipping costs and you can't beat the two day delivery versus ordering from Fitbit direct. I love it! I have not had a single issue with it. It works just as well as the one that came with my Fitbit. Mind you this is for the Charge HR. It is a weird purplish/pinkish color. I have the purple Charge HR and the color of this charger is ALMOST (not exact-but pretty close) the same color as the small amount of purplish/pinkish color where the button is on the side where the button is you push to view the display. I've included a picture with this review. I like it and if something happens and I need yet another cord, I would purchase this one again.
September 11, 2015
These cables are good when you need a spare or two to charge for when you are at work in the office or in the car. I wear my Fitbit all the time except for when I am in the shower, so when I need to charge I would only charge when I am sitting and not walking. Sometimes it's difficult to charge when at home because the only down time I have that is longer than 1.5hrs (time it takes to fully charge from almost empty) is when I'm sleeping, but I track my sleep too. So having one of these at work or in the car is perfect!Note: This will work ONLY with the Fitbit Charge HR models (and maybe other models that use the exact same connector shape).I purchased the 2 pack black colored cables because they are significantly cheaper (2 for $7.99 last checked) than buying the original charging cables from Fitbit ($19.99 last checked). I was a little reluctant at first because reviews were a bit mixed. Some have said it damaged their Fitbit after 1 charge, and some said it's loose and doesn't fit well. Some said the fit is too tight or difficult to connect. Nevertheless, for the cost savings, I thought I take the risk and give it a try.PROS:- Low cost (5x cheaper than original)- It works and charges with most USB AC adaptersCONS:- It doesn't connect as smoothly as the original Fitbit charging cables- It will scratch or add wear marks near the edges of the charge port on the Fitbit after several uses (see attached images)MATERIAL/CONSTRUCTION:It feels and looks almost identical to the original Fitbit charging cable. If you look at the attached images, you will see the differences I pointed out. The one major difference is the locking clips on the two sides of the cable. The Getwow cable clasps extend out about 1 mm or more than the original Fitbit charging cable (picture shows side by side comparison). This might be intentional in the design, probably to address some earlier complaints of them not providing a snug fit.CHARGING:Note: The Fitbit doesn't draw a lot of current during charge, so pretty much any USB chargers and computer ports will work fine with almost the same results. Just be careful about using cheap AC adapters. They usually provide very noisy power signals (poorly regulated voltage and current), or they don't have any type of protection (i.e. overvoltage, overcurrent protection), which "could" damage the Fitbit. Use at your own risk.I've tested this with an Anker 5 port Desktop charge that is rated for up to 2.4A max. and has smart charging and protection built-in, and it charges in the same amount of time as the original Fitbit cable (full charge takes roughly 1.5 hrs). I've also tested using a computer USB port (regular non-charging USB port with typical 500mA current rating) and it charges also roughly around the same time. Lastly, I have tested with an Ipad3 AC adapter (2.1A rated) and it also charges in around the same time.PROBLEMS:- Because the clasps extend out more, it's harder to push and connect the cable to your Fitbit, as compared to using the original Fitbit cables.- The extra extension of the clasp will also create a longer scratch or wear along the edges of the charge port on the Fitbit. You can kind of see the wear marks in a couple of my images circled in red. Now, this is not the say that using the original Fitbit charging cable will guarantee no scratch or wear marks either, because I think the charge port and the Fitbit cable is poorly designed. The Fitbit charge port is made of plastic, and the clasp on the cable is metal. It will scratch over time regardless of what cables you use.SUMMARY:- If you want an extra charging cable for your Fitbit and don't want to spend $20, these are great options as a substitute.- If you are worry or overly cautious about putting too many scratches on your Fitbit, these might not be the ideal cable for you. However, keep in mind that even the Fitbit original cables will scratch the Fitbit over time anyway.ADDITIONAL COMMENTS:Fitbit should really redesign the charging port on the Fitbit or use a different material for the clasp on the cable so to avoid any scratches/wear on the plastic.
March 10, 2016
I'm not going to lie. I'm one of those "Oh my God, my Fitbit died!!!" people. I went camping over the weekend and somehow lost my charger. I went over to the Fitbit site to buy a replacement and man are those puppies expensive! I thought, what the heck, I'll head over to Amazon just to see what I can find. Lo and behold, this gem shows up. The charger showed up in a timely fashion (how could it not with Prime shipping). Just in time for my Fitbit to call it quits on the battery! It's just as long as the brand name charger and so far it's been great. I have yet to come across any charging/connection issues. I think this was definitely worth the price and I may buy another just as a backup!
September 7, 2015
Best SELLER !
The Fitbit Charge HR is a complex device, which will appeal to a surprisingly narrow group of people. If you're a runner, cyclist or swimmer the lack of GPS is a guaranteed dealbreaker. If you're a general user looking for insights into your daily steps, buy a Misfit Flash for half the price. However, for regular gym goers or casual exercisers who want to accurately log a range of fitness activities, classes and workouts, the Charge HR is one of the best in the business.