The $99.95 Fitbit Flex is the newest personal fitness tracker in the company's lineup. While the Flex isn't without some flaws, the gadget is the most complete product of its kind you can buy. It can track steps taken, sleep quality, and it syncs data wirelessly with PCs and Macs automatically. Comfortable to wear, the Flex can communicate directly with iPhones and select Android smartphones, and is water-resistant as well. Going head-to-head with other wristband-style exercise products such as the Nike FuelBand  and Jawbone Up , the Flex offers more features and convenience at a lower price than those more expensive devices.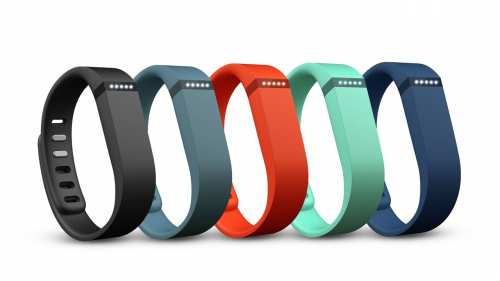 Show more images
Fitbit Flex Wireless Activity + Sleep Wristband, Black
$99.95
Make fitness a lifestyle with Fitbit Flex
Made by: Fitbit, Available:
In stock
Design
When I first picked up the new Fitbit Flex, I initially considered its unadorned surface and clean, ring shape spartan. After all, the device lacks a real screen capable of displaying alphanumeric characters. Instead the Flex sports a thin sliver of a display cut from smoky dark plastic. Underneath the plastic sits a row of five tiny, white LEDs that blink to indicate the Flex's status.
The Flex's flexible rubbery band, however, masks the product's true complexity. Inside a small pouch on the strap's underbelly you'll find the real brains of the operation, a smooth plastic pebble that contains all the Flex's electronics. In fact, the LEDs visible from the band's surface are actually located on this little gizmo. Indeed, half the size of the current Fitbit One and Fitbit Zip, the new Flex is Fitbit's smallest tracker yet.
Other than its LEDs and a Fitbit logo, the only other features you'll find on the tracker is a line of metal contacts. These are used for charging the Flex's rechargeable battery through the supplied USB cable and socket adapter.
Popping the Flex into its band is easy, and the tracker even has an arrow indicating which direction it should be inserted. Attaching the band to my wrist is another situation altogether. The Flex has nine oval holes on one side of its wrist strap, and two hard pegs on the other.To button up the band you snap these pegs into the Flex's notch-shaped holes. In my experience it's a tricky process that requires a lot of force. Call me a wimp, but I even injured myself attaching the band; I mashed my thumb too hard against my wrist. Fitbit says that it's aware of this issue and that it should only affect preproduction units such as mine. One benefit of the Flex's tight wrist lock is that it's unlikely to become unhooked.
If you spend a lot of time around water or in the rain, the Flex has your back. The device is fully water-resistant and is designed to shrug off exposure to splashes and short immersions in liquid. As a result I was able to both shower and wash dishes with the Flex strapped to my wrist daily. It's a good thing, too; the Flex is so light and comfortable, I often forgot it was there. In my opinion, the Flex is more comfortable to wear than the Jawbone Up, another well-designed and highly ergonomic wristband tracker.
Features and performance
The most recent fitness tracker from Fitbit, the Flex offers almost all the same features as the company's One product. It relies on an internal accelerometer to record the steps you take, the calories you burn. The device calculates this by factoring in your age, height, and weight, which you punch into a linked Fitbit account online.
Another trick the Flex takes from the One is its ability to track the length and quality of your sleep plus how many times you woke during the night. The Flex is much more convenient gadget for sleep tracking, though, since it's already strapped to your arm. That means you can wear it straight to bed and don't have to mess with a separate armband like you do with the Fitbit One.
That said, the initiation process for kicking the Flex into sleep mode takes a little practice. You have to tap the device's screen six times to tell it to start recording your Z's. Only the right tempo of taps will work — go too fast or too slow and the Flex won't register your input correctly. By contrast, the big physical button on the Jawbone Up (which also tracks sleep, steps, and calories) is much easier to manipulate.
One upside to the Flex is its LED screen, which displays how far you are towards your daily step goal. Just hit the screen once with your fingertip and the Flex shows your progress on a scale of one to five. When all five lights illuminate you've reached the default daily step quota of 10,000 steps. The device will even perform a happy dance when you achieve your goal, complete with haptic buzzing and all lights flashing in a random pattern.
Of course you can tailor your goals to match personal targets, too, but not from within the companion mobile apps (iOS and Android). To tweak your custom settings you need to log on to the Fitbit Web site. The Jawbone Up mobile application allows users to adjust their personal fitness targets for sleep and steps, though it lacks a Web-based UI.
I've long believed that the strength of the Fitbit system lies in its powerful online data analysis tools. Both the Fitbit mobile app and Web interface let you sift through your stats in views of days, weeks, months, and a full year. You can also pull from a large food database to log meals and count calorie intake. I especially like the ability to create custom foods, and have often-entered meals stored for fast entry. It makes the tedious task of calorie counting less onerous.
To measure weight in real time, Fitbit's Aria Body Scale also talks to your Fitbit account and provides concrete data to pit against calories consumed and burned. Also, all of Fitbit's current trackers, including the Flex ship with Bluetooth adapters to sync collected information wirelessly to PCs and Macs. That's a trick the Jawbone Up can't tackle. If you own a Samsung Galaxy S3 or Galaxy Notehandset, the Flex will also communicate directly with the Flex via Bluetooth.
Fitbit says the Flex has a rated battery life of 5 to 7 days depending on usage (i.e., how much you tap the screen). My experience mirrored these claims and was able to last approximately 5 days without needing to recharge. The Jawbone Up, however, has much longer longevity (about 10 days) since it transfers data through a more efficient (but less convenient) 3.5mm headphone jack.
Like the Fitbit One and Fitbit Zip, the Flex seemed very generous when logging my step counts. Many times a week I exceeded by 10,000-step goal by a few thousand. Sure, I live in New York, which can be very hectic, but somehow I don't think I walk that much.
Conclusion
If you're in the market for a personal fitness tracker to measure overall activity (plus how well you sleep), the $99.95 Fitbit Flex is an excellent solution. Sure, Fitbit's own $99.95 One device does have all of the Flex's core features and throws in stair tracking for good measure. That said, the One's clip design has a tendency to fall off clothes, or stay clipped to them by accident. It's also cumbersome to wear around the clock. Wristband-style trackers are much better suited for this type of duty.
That narrows the playing field to the pricey $149 Nike FuelBand and the slightly less expensive $129.99Jawbone Up. While the FuelBand is handsome and sports a real LED screen that can display text (and the time), it only works with iPhones and can't track sleep. The Jawbone Up, on the other hand, logs sleep and steps, though it lacks a display. The Up also requires a physical connection to sync while the Fuelband uses proprietary (iPhone only) Bluetooth technology. By contrast, the Flex is comfortable to wear and has more features, including Bluetooth syncing (iOS and Android) and access to powerful analytical tools. That adds up to a solid fitness tech buy in my book. Of course, if you're looking to save a little, the $59.95 Fitbit Zip is also a compelling budget choice.
---
PROS:
The Fitbit Flex is a simple way to track steps, sleep, and calories. The Flex's strap design makes it light and comfortable to wear. It also offers handy Bluetooth syncing, and Fitbit's platform gives plenty ways to analyze your stats.
CONS:
Clasping the Fitbit Flex's strap shut is tricky. Direct syncing is only available with the iPhone, the Samsung GS3, and the Galaxy Note handsets.
---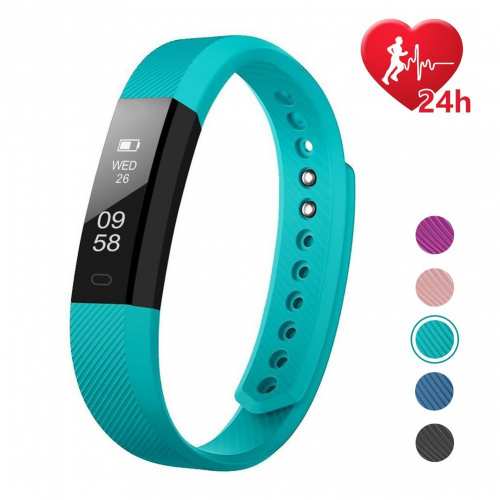 Enter your model number to make sure this fits.; All-day Activity Tracking: Accurately record all-day activities like steps, distance, calories burned, active minutes and sleep status.; Heart Rate Monitor: Check your heart rate automatically or manually; know your all-day heart rate and view...
Deals
Specification
Last comments
| | |
| --- | --- |
| Product Dimensions | 8.9 x 0.8 x 0.4 inches ; 0.8 ounces |
| Shipping Weight | 1.6 ounces (View shipping rates and policies) |
I got this wristband to try to track my heart rate throughout the day but when I compare it to my blood pressure machine it is usually way off. I expected a few points difference, but it usually isn't even close.I take several medications throughout the day (5 times a day) so I really like being able to set silent alarms that vibrate my wrist when it's time to take the next dose. I was worried that the metal might give me an allergic reaction but it seems to be designed in a way that the metal doesn't touch your skin. A definite plus for those of us with super sensitive skin.Once you link it via Bluetooth to your phone it automatically sets the date/time in sync with your phone, which is really cool. I also like how I can change the way the screen shows the info. - vertically or horizontally. And I have it set to alert me when I'm receiving a call, and it shows who is calling me.One complaint I have is that I can't read it anytime I'm in the sunlight, it goes so dim that it's impossible to read.Overall, a pretty good product for $30.
June 5, 2017
I love this device! It was inexpensive, it looks like it was build with good materials, it does not look "cheap", it is aesthetically pleasing.It can measure calories burned, heart rate, time spent in activity, gives you the time, has a vibrating alarm that you can set up with the app, which I love because I can wake up to the vibration of the watch and not disturb my family with an alarm clock and it allows me to wake up relaxed and not disturbed by the sound of an alarm. Also it lets you know when you have a call or text. It has a sedentary alert which you can customize, it tells you when it is time to get up and walk.As far as counting steps, I was ready to give up on the device when I realized that I knew I had walked more than 328 steps and that was all the device had counted up to that point, then I started reading the manual and it says "regarding the step counting, this fitness tracker has a built-in 3D sensor. It registers your step when you swing your arm. Sometimes the data on the device may displayed a little delayed. And it will reset itself if you walk continuously less than 40 steps". That is the design of this device, which mean that at times it might underestimate the amount of steps you give. Other pedometers are a bit more expensive but they might also overestimate the steps you take. It depends on the model and the design. Once I understood how this works, I was okay with it. I need it to count my steps, toGive me parameters and assist me with my goal.If you want the pedometer to work for you, you need a goal and the device to assist.All the good stuff about this device overshadowed the stuff I did not like. ❤️❤️❤️❤️❤️
February 4, 2018
I finally wanted to let my wife in on the action so it was time to get her a fitness band. She's had an Apple Watch before, but we just couldn't justify the purchase so we sadly returned it. I found some good options here on Amazon and decided on this one for her.The fitness band got her wrist well as hers are pretty small. It doesn't look tiny on her wrist either. The closure system for the Watch makes it very easy for her to put on and take off. Would be nice if there was an additional retainer band. The functions that are important work well. Even just as a Watch this is worth the price because the time is absolutely accurate since it syncs with your phone's information. I really like that you can change the screen from horizontal to vertical based on your preference. The app it uses is free and is the same one I use for my fitness band and others I've purchased in the past. This is nice since the app is easy to navigate and allows the data to sync with Apple Health. One thing to note is the orientation of the device when it's charging. The screen will be facing upward, but the device will curve downward. Not a big deal if you are using a wall adapter to charge the band. Much different if you plan on charging this on your computer since you have to elevate your computer to do so or place it against the edge of the table. The battery comfortably lasts 3 days. I recommend just putting it to charge when you are getting ready in the morning or on your commute to work. It works best for me to just charge when I'm driving.This device was purchased to tell time, monitor sleep cycles, and measure heart rate during exercise. As a bonus it has a "find my phone" feature that has come in handy. My wife loves this fitness band because of the value for money spent.
September 30, 2017