The $99.95 Fitbit One is one of the most advanced fitness trackers money can buy. Besides measuring steps, this gadget can record how many stairs you climb, the calories you burn, and even the quality of your sleep. Its clippable design, however, isn't as convenient or secure as competing wrist-style devices such as the Jawbone Up, Nike FuelBand, and even Fitbit's own Flex. And unlike the Fitbit One, those devices are made to be worn around the clock, not just clipped to clothing when you hit the gym or head out for a run. So for those trying to keep tabs on every move you make, the One isn't ideal.
Design
If you've owned or played with Fitbit's past devices such as the original Fitbit tracker and Fitbit Ultra, the One will certainly look and feel familiar. Small and oval-shaped, the tiny Fitbit One is easy to carry even when placed in its silicone cover and clip.
The idea is to use the clip to attach the One to clothing, either a belt, pants pocket, or shirt. Once clipped on, the gadget records your daily activity. There's just one button on the One. Pressing it toggles through the product's various screens — the time, steps, stairs, distance traveled, and calories burned through activity. A final screen shows a flower graphic that grows and shrinks in relation to how much you've moved recently. The longer the flower stem, the better.
You can also slip the Fitbit One right into pockets without wrapping it in its rubbery cover; Fitbit claims the tracker will be just as accurate. I personally would advise against doing so; the One is so tiny that it wouldn't be hard to lose it. In fact, even when clipped to my waist, I often forgot the gadget was there.
This may not sound like a problem, but when coupled with the product's problematic clip case, it could become one in a big way. Large messenger bags, the type I usually wear at waist level, can cause the clip to unhook; since the One is so light, you won't realize it's gone until too late.
Getting in and out of cars, seats, or bending constantly to pick up and put down fussy toddlers can cause the same malfunction. Hey, that's pretty much what my entire weekend looks like. I lost two Fitbit One units within my test period, which points to a serious design oversight in my view. I had similar clip failures when using the Fitbit Zip, which has an almost identical clippable case. This is why I believe wristband products like the Nike FuelBand, Jawbone Up, and Fitbit Flex make the most sense for 24-7 use.
Another issue to consider is how easy it is to accidentally throw a product like this into the wash. I admit I did this with the Fitbit Zip and came embarrassingly close to making the same mistake with the One on numerous occasions. Luckily my Zip emerged from the washing machine no worse for wear. That's likely because it, the Fitbit One, and Fitbit Flex are splash- and sweatproof.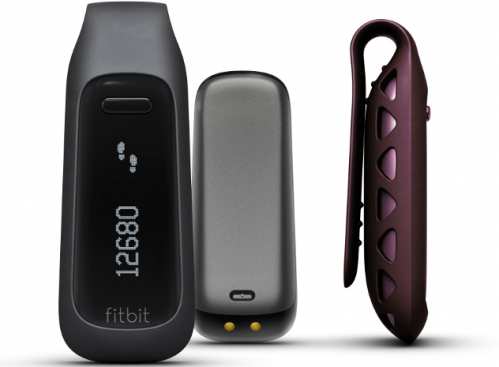 Show more images
Fitbit One Wireless Activity Plus Sleep Tracker, Burgundy
$261.00
Fitness means being active, sleeping well, and eating smarter and the Fitbit one helps you do all three. During the day, it tracks your steps, distance, calories burned and stairs climbed. Come ...
Made by: Fitbit, Available:
In stock
Features and performance
Truly a pedometer on steroids, the Fitbit One uses a built-in accelerometer to track your movements in measurements of steps and distance traveled (miles). It also logs how well you sleep in terms of actual time spent in slumber and how many wakeful interruptions you experienced overnight.
One drawback to sleep tracking on the Fitbit One is that you have to remove the device from its clip sheath and place it in a soft cloth strap designed for nighttime use. I found this an inconvenient extra step, especially when dead tired. Also, competing fitness bands such as the Jawbone Up, Basis Band, and the Fitbit Flex tackle sleep duty without relying on a separate strap.
I must give credit to the Basis Band, which, at least in theory, records sleep automatically. Even when strapped to my wrist, many times I failed to remember to hold down the Fitbit One's or even the Jawbone Up's buttons to activate their sleep mode after a particularly long day. The same goes for shutting down sleep mode in the morning.
The real strength of the One, as with Fitbit's other devices, is its ability to connect to the company's online service. Data measured by the One tracker is pushed to servers living in the cloud. From there you can sift through your stats either via Fitbit's desktop Web site or through companion mobile apps for iOS and Android.
With all this data at my fingertips, I was able to easily see my activity over days, weeks, months, and the past year. To take fitness beyond casually logging workouts, runs, and walks, the Fitbit service lets you enter the food and drinks you consume. With info that's pulled from a large database or that's custom-created, the calories for the meals you eat are set against the calories you burn.
Believe me when I say that calorie counting is a chore, but the Fitbit app and Web site are the easiest platforms I've used to get the job done. The service saves past foods entered and creates a list of items you punch in often as well. This level of biometric data combined with the company's Aria Wi-Fi Smart Scale, which records the weight of multiple household members and shoots info to the cloud, and you begin to see the value these connected gizmos bring.
Fitbit bundles the One with a USB Bluetooth adapter that you use to connect the device wirelessly to PCs and Macs. The gadget also can link to smartphones over Bluetooth as well — it's the first tracker to do so — but the list of supported devices is a short one. At the moment, compatible handsets includeiPhones, and Samsung Galaxy S3 and Galaxy Note devices. Fitbit does plan to make Bluetooth communication with the Android app available to a wider range of phones as soon as possible.
Unlike the Fitbit Zip, which uses a watch battery, the Fitbit One is powered by a rechargeable battery. Just slip the device out of its case and plug it into its USB adapter to recharge. I never had problems with the One's longevity; the tracker typically lasted a full work week without needing a power boost.
Conclusion
The Fitbit One is a perfect example of an excellent product packed with a host of great features undone by a problematic design. By connecting to Fitbit's powerful analytical tools in the cloud and helping you count calories, stairs climbed, and sleep quality, the One goes way beyond one-trick pedometers.
That said, its clip cover doesn't grip as reliably as it should, which isn't merely an annoyance. It could result in a lost device, or indeed multiple devices, as in my case. If the One cost $20, that might be a forgivable offense, but at $99.95 it's a serious issue.
This is why I suggest purchasing the Fitbit One only if you can't stand wrapping a gadget around your wrist. For all others I recommend holding out for the upcoming Fitbit Flex, which sports an identical $99.95 sticker price but uses a more convenient and secure wrist band design. It also matches the One's features blow for blow, save counting stairs and a having an alphanumeric display.
Another choice is the more expensive $129.99 Jawbone Up if a more ergonomic design and a longer battery life (but no wireless syncing) are your priorities. All three current Fitbit products, the $59.95 entry-level Zip, the One, and the Flex, leverage a deep well of online data. That's hard to resist for casual users and fitness addicts alike.
---
PROS:
The Fitbit One offers an intuitive way to track and analyze your sleep, the steps you take, stairs climbed, and calories burned. Small and light, the One is very portable. Its OLED screen, which has a clock, is easy to read. It sends data to phones over Bluetooth.
CONS:
The Fitbit One's clip often comes loose. The One's Bluetooth syncing function only works with a few compatible handsets thus far.
---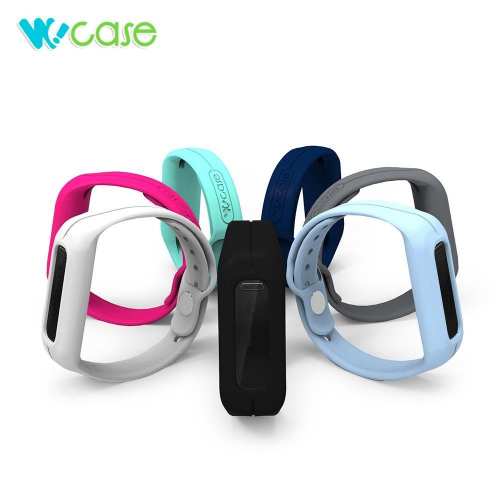 First wristband (patent pending) for Fitbit ONE activity tracker that turns your ONE into wearable Fitbit FLEX/FORCE/CHARGE. 2016 Upgraded version. More secured, smaller, lighter. Lost proof design. Turn you Fitbit One into a watch. Personalize your wristband to match your daily style with these...
Deals
Specification
Last comments
| | |
| --- | --- |
| Shipping Weight | 0.3 ounces (View shipping rates and policies) |
First Things First. This 4-star rating is based on the wristband's quality and not accuracy of the device data while wearing it. The accuracy of the data has more to do with how the FitBit One was designed and has little to do with the construction of the wristband accessory. I will comment on the accuracy of the Fitbit while using this device.For those who wanna know...NO this is not the best option for 24 hr wear of the FitBit One, sadly this is a lesson I learned quickly. So those who want to save money by adapting their One, like me, will be disappointed. Simply put, it was never meant to be worn on the wrist while moving and doing so will give you inaccurate results. I was looking for a cheaper solution than buying a Fitbit charge as wearing it on my bra and hip prevented me from being able to check it frequently. I realized after using it for 1 yr checking the app all the time got old and it eventually becomes "out of mind out of sight."On the other hand, this wristband is pretty sturdy. I see from the photos that mine is a little different. I don't see how one's Fitbit could fall out of this band. It hold it pretty snug and it securely fits with the wrap under connection (see photos). I have large wrist for a woman and I was able second notch. So if someone has small wrist then this maybe too big.Like I said earlier, wearing the Fitbit One on the wrist produces inaccurate results and almost doubled my normal results. It will count steps when I'm fixing my hair, washing dishes, cooking and even driving. It's perfect for sleeping though. So if you want an alternative to the sleep band that FitBit sends, this is a much better replacement.Otherwise you have to accept the truth like I did and suck it up or buy a FitBit Charge.
January 12, 2016
When I first received my wristband, I was ecstatic. It fit my Fitbit perfectly, and it looked super sleek. I became upset that, after the FIRST day of wearing it, it was already SUPER dirty. It transfers dyes from shirts very easily. I should have figured this, but I expected that it would clean easily like an Apple Watch band. It does not. After numerous tries to clean my wristband, I pretty much gave up hope.The only reason this review doesn't have one star is because when I contacted the sellers, they offered suggestions and offered to send a new one for free. I haven't received this yet, but I have confidence that it will appear. Hopefully this one will be a better wristband.On a positive note: it is a very comfortable band to wear. It didn't annoy my skin at all; it is very light.
July 20, 2017
So the concept of the WoCAse by this company is in my opinion, a good one. Price is right, and offers good protection for a relatively expensive small product. However I think they missed the mark here. I find wearing this item on your wrist offers false readings on your days activities. After all the FitbitOne measures steps, flights of stairs, and miles. These are things primarily done with your feet not your hands and arms. You would be surprised how often your hands (and arms) move when your feet (legs) do not. Swing your arms and this products makes the FitbitOne think your walking - taking steps. Reach up for something - on a shelf or cabinet - and the FitbitOne thinks your climbing stairs. SO you get an inaccurate reading for the day. It seems a much better idea here would have been to simple make the strap a little longer so that you could attach the WoCase to your ankle!!!! Am I missing something? Had planned to buy two. One for my wife and one for myself. Got one to see how it worked. Unless they come out with one that can be worn on the ankle, I won't be buying a second one. Other than that this is well made good product...
August 27, 2015