The Fitbit Surge is the company's first true sports tracking wearable aimed at those who love running, cycling and working out.
Fitbit has described the Surge as its "most advanced tracker to date", and withoptical heart rate sensing and GPS built-in, it's more than a match for sports watches from likes of Garmin and Polar.
After strapping it on for the original review we've gone back and revisited it with the addition of Fitbit's new cycling mode.
Read on for our full Fitbit Surge review.
---
PROS:
Activity tracking is great
Very easy to use
24/7 heart rate monitoring
Automatic sleep tracking
CONS:
Smartphone notifications basic
GPS accuracy debatable
Uninspiring design and display
It's not cheap
---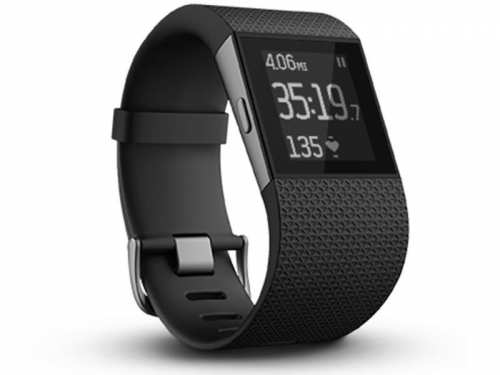 Show more images
Fitbit Surge Fitness Superwatch, Black, Small
$130.82
Train smarter and go farther with Surge
Made by: Fitbit, Available:
In stock
Fitbit Surge: Design, build quality, display
Unlike the Fitbit Zip and the Fitbit Flex that came before it, the Surge shuns the traditional activity tracker band form factor and it's definitely moresmartwatch than fitness tracker.
However, while the Android Wear brigade are hardly fashionista head-turners (the LG G Watch R and the Asus ZenWatch are semi-stylish rather than stunning) they do somewhat put the Surge to shame when it comes to aesthetics.
The Fitbit Surge's rubber strap, which comes in black, blue or tangerine looks nice enough and, crucially, is both comfy and secure, but it's hard to look past that dated looking display and the increase in girth from the modules bottom to top end is rather bizarre.
The display is a rather drab looking touchscreen monochrome 1.25-inch LCD number that uses a plethora of greyish blue variants for its different homescreens and menus. There's a solitary button on the left side for switching between the live view mode of your daily stats and the function screens (this also switches from a light on dark to dark on light colour setup) and the two buttons on the right are used as selection inputs.
This physical and capacitive control arrangement works well however; it's easy to navigate around the Surge's options and features without getting lost, and we've had absolutely no issues with touchscreen responsiveness, even in the pouring rain.
The LCD screen has a backlight so it's also usable in low light situations – you can toggle this light on or off, or set it to automatically come on when in use – through the settings menu on the device itself rather than having to use the app.
Stupidly, if you want to change the watch face – there's four to choose from – you do have to use the app, the settings on the device only extend to the backlight, switching notifications on or off, toggling Bluetooth, setting the heart rate monitoring power options and turning the Surge off.
Fitbit Surge: Activity and sleep tracking
Fitbit's raison d'etre, up until this point at least, was everyday fitness tracking – so let's kick off with that aspect of the Surge's armoury.
The Fitbit Surge is capable of tracking steps, distance travelled, calories burned, floors climbed, elevation and active minutes thanks to its 3-axis accelerometer, a 3-axis gyroscope and digital compass.
These stats are not only synced to the Fitbit app (which we'll come to in more detail later) but are also displayed on the device's display. From the regular clock face you simply swipe left and you'll see all your daily totals on display. It's incredibly easy to use and much less fiddly than opening up an app to see how you're doing, as would be the case with older Fitbit devices, as well as incoming rivals like the Jawbone UP3.
The activity tracking is, as you'd expect from a company with plenty of experience in this area, incredibly reliable (we tested against older Fitbit models, as well as rival activity bands) and the Surge does a great job of motivating thanks to the ease of seeing how well you are performing against your goals.
There's also sleep tracking with the Surge and, like the new Fitbit Charge models, your zzzzs will be monitored automatically (unlike the older Flex which required a manual, push of a button sleep command) and there's a vibration-based silent alarm on offer too.
The Surge records days of detailed motion data, minute by minute, and keeps tabs on your daily totals for a month. It can also store heart rate data at 1-second intervals during exercise tracking and at 5-second intervals all other times.
Fitbit Surge: Heart rate monitoring
24/7 heart rate monitoring, using Fitbit's new PurePulse technology (that is also found in the Fitbit Charge HR), is a major feature of the Surge and puts the device squarely up against the likes of the Basis Peak and the Microsoft Band.
It means that, not only can you use the built in optical heart rate sensor to guide you during runs and workouts, and allow you to do detailed bpm training, you can also monitor your resting heart rate everyday, allowing you to monitor it over time and see what events and activities in your life cause it to fluctuate.
Fitbit's PurePulse tech uses LED lights (you'll see them on the back flashing green as you remove the Surge) to detect your blood volume changes as your heart beats and, combined with the company's algorithms, you'll be able to get a more accurate calorie burn figure and keep a closer eye on your health.
You will of course, as already mentioned, also be able to train within heart rate zones and maximise cardio workouts. We tested the Surge's bpm skills against a couple of other optical heart rate sensors (including the new Mio Fuse band) and found the results to be pretty consistent.
So while an optical, wrist-based, heart rate monitoring isn't likely to be as accurate as a dedicated chest-strap, we'd say the Surge is as reliable as any of its main rivals for a general gauge of bpm performance.
Fitbit Surge: GPS running and workouts
The next big function that helps the Surge stand out from the crowd is the inclusion of GPS connectivity. This means that you can now track runs using a Fitbit wearable without the need to take your smartphone out and about with you as well. Essentially, it puts the Surge head-to-head with dedicated GPS running watches but its main rival is probably the activity tracking hybridPolar M400 that also has GPS smarts.
It's easy to start a run with the Surge, simply navigate to the main running homescreen and select the type of run you want: free, lap or treadmill. The first one is the one you'll use most, the second allows you to press a button to record lap times and the third is a non-GPS option that uses the step algorithm to track your gym jogs – it's best to calibrate your stride length within the Fitbit app if you're going to be doing a lot of these.
For the GPS running the satellite lock is pretty quick – faster than an Adidas miCoach Smart Run, not as fast as a Polar M400 – and once you're off you're presented with the running display, which shows distance, time and pace. Swiping to the left swaps pace for steps, calories or heartbeat but there's no way of changing the other two metrics, or the order things are shown.
Now, while GPS tracking is the only real way of accurately tracking a run, there's always some discrepancies between devices – even ones made by the same manufacturer – due to the satellite being used, the strength of the signal, interference and so on. However, these discrepancies are usually around 2-3% at most. We twice tested the Surge against the Adidas miCoach, and once against both the Sony SmartWatch 3 and Polar M400 and found that, over 5km, the Surge claimed we ran 420m less than the miCoach and, over 10km, 700m less than both the Polar and Sony recorded. That's 7-9% different. Not ideal, especially given that we tested it against devices giving consistent results, and ones that we had proved reliable in the past when compared to rivals themselves.
You can set up the Fitbit to record other sports – weights, golf, circuit training, yoga, golf, tennis, hiking and a load more – and you can also choose which ones of these sports you want to include within the Exercise area of the device itself.
These sessions are then automatically synced within your log on the Fitbit app, with heart rate data and, if applicable, GPS data on offer. However, these sessions are essentially just labels for the app. The golf function, for example, has no course data and won't record your shots – it will simply map your route using GPS, calculate the distance you walked and keep tabs on your bpm.
Fitbit Surge: New Bike mode
An ominous omission from the Fitbit Surge at launch was a dedicated cycling tracking feature, which was a big drawback for bike lovers. However, Fitbit has added a new Bike Mode to its exercise line up.
The mode brings the same level of detail as Surge provides for running, with time, pace and heart rate zones provided. The app provides graphs and charts of your session, as well as a map of your route.
However, the mode isn't as detailed as we've seen with body mounted wearables, such as the Wahoo Tickr X, which can record cadence, which is an important stat for cyclists.
It makes the Surge a useful watch for cyclists, but like much of its reporting, it doesn't quite match the immense detail of specialists sports tracking wearables from the likes of Garmin.
Fitbit Surge: The Fitbit app
The Fitbit Surge syncs to your smartphone app using Bluetooth, or your PC or Mac using a wireless dongle if you don't have access to an Android, Windows Phone or iOS device. Once synced with the mobile app, data is stored in the cloud and will appear on the slightly more in-depth desktop version too. Your data will also sync with the info from your Fitbit Aria Wi-Fi Scale, and brings in your data from your old Fitbit devices as well.
When syncing your Surge to the Fitbit app – the same app you'd have been using already for your old Fitbit device – you'll be asked if you want your new super watch to replace the existing stored wearable. The Fitbit app can't handle more than one tracker at a time and you'll have to delete your existing Flex, for example, before you can pair your Surge.
During our Fitbit Charge review we mentioned this is a bit silly as wearables should be chop-and-changeable: surely Fitbit would benefit by letting users don multiple devices? This setup discourages users from getting both a Charge and Surge.
The Fitbit Surge section of the app lets you see your step count, your current heart rate, the distance you've covered, calories burned, floors climbed, active minutes and also lists all your workouts. From within each of these you can select to see more info and be presented with a plethora of graphs and historical date (daily, weekly, monthly). The app also allows you to record extra workouts, share and compete with your friends, log your food intake and earn badges based on your activity achievements and you can also use the app to change some of the settings for the Surge.
Fitbit Surge: Smartwatch notifications
The Fitbit Surge is not a smartwatch. In terms of smartphones notifications you're looking at incoming call alerts, missed calls and text messages. And that's it. You can forget about WhatsApp, Facebook, Twitter and the like – the Surge doesn't even offer native app updates like emails and calendar reminders. A crying shame and certainly not what you'd expect from a 'super watch'.
We hope Fitbit adds extra notifications soon, the likes of the Garmin Vivosmart and the Sony SmartBand Talk offer third-party app support and even the Acer Liquid Leap has calendar reminders.
Smartphone music control is on offer, but only during workouts. The display shows track info and you can skip, play and pause using the physical buttons.
Fitbit Surge: Battery life and extras
Fitbit seems confused about two things when it comes to the Surge: Battery life and water resistance. On the Surge's official webpage it states that the battery life is both "up to 5 days" and "7+ days". You don't need to be a genius to work out that doesn't make sense. We got just over three full days out of it, but that did include an hour or so a day of GPS based activity. It charges from a proprietary connector attached to a USB cable – annoyingly not the same connector as the Fitbit Charge, though.
The Surge carries a water resistant rating of 5ATM, which should mean you'd have no problems wearing it in the pool – although Fitbit advises against it. That doesn't really make sense as a 5ATM rating means it should withstand the pressure of 50m of water.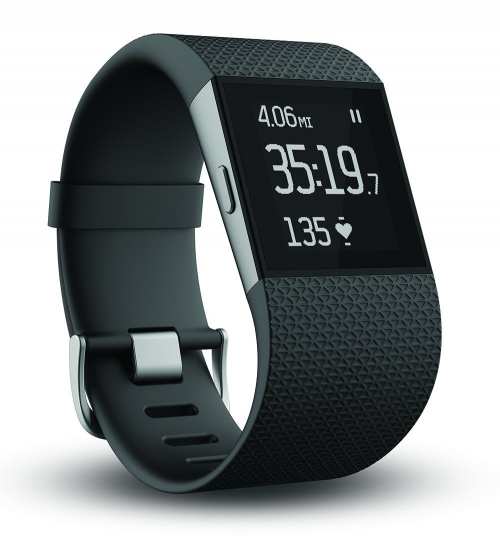 Train smarter and go farther with Surge—a sleek, fitness super watch designed to help you maximize your performance on the track, in the gym and all day. Make the most of training with built-in GPS, automatic and continuous wrist-based heart rate, and simplified heart rate zones. Track daily...
Deals
Specification
Photos
Last comments
| | |
| --- | --- |
| Product Dimensions | 6.9 x 1.4 x 0.6 inches ; 1 pounds |
| Shipping Weight | 11.7 ounces (View shipping rates and policies) |
| Domestic Shipping | Currently, item can be shipped only within the U.S. and to APO/FPO addresses. For APO/FPO shipments, please check with the manufacturer regarding warranty and support issues. |
| International Shipping | This item is not eligible for international shipping. Learn More |
| UPC | 810351023524 810351021803 |
| Item model number | FB501BKS |
I have had my Surge since mid-Dec and I am happy to say it is a huge step up from the Flex! I am so excited that I don't have a collection of stuff on my wrist anymore (and that is what it felt like to have a watch and another device on my wrist).So far, things have been overall great!The SizeIt is a bit more bulky than my beloved watch, so it does catch on long sleeves. It is a little annoying to try and view it when I am wearing a jacket, but it is a small annoyance that I can live with. I don't find it bothersome to wear while I am sitting at my computer (which I did have a problem with when I wore my watch). I bought a size small, which fits well, but I probably could have gotten away with a large (despite the fact that I have tiny wrists and it is a fraction of an inch smaller than the recommended size for large).StyleIt is by no-means femenine, but as far as fitness watches go, it is generally unisex. I also don't have the gap that I usually have with fitness devices where my wrist curves but my watch face doesn't, so I end up with gaps under the top and bottom of the face, so that is a definite plus (there is a small gap, but not annoyingly bad).FunctionAs a watch, it is one of the best executions of a watch on a fitness device that I have seen. I would love to see the screen have the option to default back to the time screen. It currently stays on whichever screen you last viewed, so sometimes that is frustrating, but nothing insurmountable.The backlight is spot on. The sensitivity seems to be perfect so I have yet to look at my watch and not see what it is trying to tell me.Notifications are good, but it only does calls and texts. I am not sure I really need more notifications, personally. I get a lot of notifications through the day and would get annoyed if I got notifications for each facebook post or email.Tracking seems to be fairly accurate. Heart rate has been within reason (ie, not really far from what my heart rate should me). Some people need to move the tracker higher up on their wrists, but I haven't had that issue yet. Of course, you can spoof steps if you are determined or animated, you can certainly spoof steps, but then again, I know that sometimes my steps aren't counted right, so I figure it all evens out at the end of the day.Food tracking is decent, but there are better food trackers out there. Luckily, fitbit does work with other services to provide 2 way integration of food tracking (and other stats).The exercise settings do allow a lot of options for how you would like to work out. Biking is not currently available, which doesn't bother me, but there are plenty of people out there who want it back. Of course, there is nothing keeping you from using another workout type to at least consolidate your statistics. The GPS is ok. I have noticed that GPS can be inaccurate when you are around a lot of buildings.Music control works. Not much to see there.Apps and web dashboard are great. There is a lot of information that is usually presented in an understandable way. There are a couple logs like heart rate that do not populate with your data, but you can see the information on the dashboard with a decent degree of granularity, so it isn't a huge deal. Presumably, this should be corrected by the time this device is officially released.The battery is supposed to last up to 7 days. I haven't made it more than 4, but I recently changed settings like bluetooth for music (which I don't use) and made sure to turn off my alarms that I don't use and don't wake up to.I would urge you not to purchase this until it is released unless you can find it from a retailer (ie Target, Best Buy, or REI) since people are selling them for more than twice their retail cost.I definitely recommend it! Even at this point, I am very satisified with it!UPDATE - The Surge is officially available today (1/6) - Check with retailers, but if you can't find it, it is definitely on the Fitbit site!Also, I added pictured to the review to show the fit. My wrist is about 6.1 inches and this is a size small. The small is supposed to fit 5.5-6.7 inches. The large is supposed to fit 6.3-7.9 inches. I think I would have been able to get away with the large (there is at least an inch of strap holes left on mine), but happy with my decision on the small!
January 5, 2015
I received the FitBit Surge as part of FitBit's early limited release. I purchased it directly from FitBit on December 5 2014, and received it on December 8th 2014.The FitBit Surge is FitBit's flagship fitness "superwatch". It integrates a few capabilities of a smart watch, like text/call notifications and music control, into a GPS/heart rate fitness tracker. It tracks your sleep as well.UPDATE (8//23/16): This will most likely be my final update. The Surge has been great, but I can no longer recommend it due to its lack of features compared to the current competition, relative to the Surge's price. It is nearly a two year old device - and the newer FitBit Blaze offers basically the same features as the Surge, except with worse battery life because of the nice color screen. I wanted something with more 'smart watch' features - and the hardware of the Blaze could be capable of doing this, no doubt. They could have even made their own App marketplace and allowed developers to create apps for the Blaze (and ultimately profit from app sales). But FitBit limited it to basically the same things as the Surge *sigh*. In comes the Garmin Vivoactive HR - something with a larger color(ish) screen, better battery life than the Surge, made for swimming, ANT+ connectivity, with customizable widgets like weather, even small apps like a basic map, and - dare I say - an actual stopwatch out of the box! The app is also much more data-driven that FitBit's. I won't get into any more detail, since there are many reviews of the Vivoactive HR, but I can no longer recommend the Surge, since the competition at roughly the same price point currently has much better options. If you're a die-hard FitBit fan, and don't need GPS, go for the Blaze. If you aren't brand-loyal, the Vivoactive HR would by my main recommendation, and the Polar A360 also looks promising (though it lacks GPS, it is about $100 cheaper).UPDATE (9/25/15): My original review was made after one week of use with the Surge. I then went through and updated every section of this review after over a month of use. I have had the Surge since early December of 2014, and it is now late September of 2015. Although I have not had the chance to test thoroughly, FitBit has recently released an update that adds stopwatch support and cues during your workout, as well as improving battery life. I have been able to test GPS while cycling (yes, they added that also!) and it is very accurate. Over the past (almost) year, it has had some wear and tear, and a couple tiny sections of rubber on the edges were banged and peeled off slightly. Not bad for the wear it has gone through, though. Although it took a long time, they have fixed just about all of the issues I had with the Surge mentioned below, and I am changing my review from four stars to five stars.-------------------------------------------------The Good:Heart Rate Tracking:This is probably the most important feature of this tracker, so I'll go into a bit of detail here. It is accurate, if it is worn snugly. When exercising, it's best to wear it a notch tighter than you normally would so that it stays in place, and a few inches up from your wrist so that it can get an accurate reading. It takes a few minutes for the reading to stabilize. I noticed that if it's loose, the results are all over the place. For everyday use, you can't wear it too tight because your skin won't be able to breathe (in my case wearing any watch made out of non-breathable material too tightly for too long results in a rash). When loose, the reading is 20BPM higher that it should read until I put it higher up my arm and tighten it, which is quite disappointing. But when it is just tight enough that it won't move around and further up the arm, it works great, and was accurate within 5BPM compared to my elliptical. So for exercise it seems to work well, but for everyday use is inaccurate. Unfortunately, any wrist-based heart rate tracker would have this same issue because they use a light sensor and blinking LED's, and having the band loose lets external light in, and light from the LEDs out.FitBit: In the future, add something that lets you choose a target heart rate, then gives you a buzz on the wrist if you go outside it. This would tell you to work harder or slow down and pace yourself without having to look down at the watch, and would be an awesome feature.Altimeter/Stairs Tracking:Counts going up every flight of stairs (going down stairs does not count). Accurate and no complaints here.Telling Time:Several different watch faces available from the FitBit app. Digital, or analog, or some are a combination of both. They are easy to read, and if you just touch the screen in the dark, a backlight will illuminate the screen. However, since you can swipe on the screen to show different stats (Flights of stairs, heart rate, distance, calories burned, steps), that makes it very easy to inadvertently swipe it to a different screen. So it might be on a different screen than time at a moment's glance, and you then need to swipe left or right to get back to the clock.Notifications:It's nice to get a buzz on your wrist for a notification, when you're forgotten your phone across the room and left it on silent. I have even had the Surge go off when my phone was on the other side of the house! So great range, and sometimes the Surge actually goes off before my phone does.Battery Life/Charging:When I originally received my FitBit Surge, it seemed to be fully charged - I did not charge it out of the box. The first week it lasted from Monday morning until Thursday afternoon (battery was low, but not dead). After leaving it on the charger for about an hour, it was fully charged and ready to go again! Fast charging time, and much, much less downtime that something such as a phone. After a month, it seems battery life is about 4-5 days, and it still charges crazy fast. However, it does not reach its advertised seven day battery life. I was sick for about a week, and didn't work out at all - Surge still only lasted five days.Motivation:The FitBit App lets you set a main goal for the day: Steps, Distance, Calories Burned, or Floors Climbed. I set mine to calories burned. When you're reached your daily goal, the Surge gives a series of buzzes and shows that you're reached your goal on the screen. If you use the app for logging food, you can see a nice ratio of how many calories you've burned vs how many you've consumed. If you're trying to lose weight, approx. 3500 calories = 1lb fat, so do the math on you calorie deficit for the day, and that's how much you should have lost (in theory).Fit:I ordered a size Large. After ordering I reconsidered and tried to get FitBit to change it to a size small (my wrist is barely large enough for a large, but not too large for a small). After receiving it, I'm glad that they couldn't change the size from large to small since it was about to be shipped. My wrist measures at about 6.00-6.25 inches, and I am at the 4th notch in for normal use, or the 3rd notch during exercise with the Large size. Since you need to wear it a few inches further up your arm while exercising, if you are in between sizes, go with the next size up.Build Quality:The build quality overall seems decent. The band is super smooth, and it can be cleaned easily. There isn't anything sharp or with rough edges anywhere on the device. There is no significant wear after a month of everyday use, wearing a winter jacket, and bumping into things with it. I'm not sure how much wear there will be on the band over time, but at least it doesn't look too difficult to replace - each side is just held on by two Torx T5 screws.The side of the Surge that is furthest away from you is about two times taller than the side closest to you. This side tends to snag on jackets, shirts, just about anything.-------------------------------------------------The Bad (And Improvement Recommendations):Just about every digital watch has a stopwatch and lets you set alarms on the watch itself... Except the FitBit Surge!Alarms must be set in the FitBit app on your phone, then you must sync it. You can turn alarms on/off on the Surge, but you cannot create, delete, or edit them from the Surge itself. A quick buzz on the wrist also isn't enough to wake up someone like me... And that's all the Surge does when an alarm goes off. It should act like a watch, beeping (or in the case of the Surge, buzzing) incessantly until you shut the alarm off and actually wake up. Because of this, the alarm feature is basically useless for me, which is disappointing.The lack of a stopwatch on fitness "smart" watch is also a bit ridiculous. You can get a decent alarm and stopwatch on a cheap $10-15 watch.No tracking for cycling. On FitBit's site, it is rated to 5ATM of water resistance, but it does not track swimming (I don't think FitBit wants this to be used in water - quite possibly due to chlorine and other detergents, and they specifically mention not to use soap on it).The good news is that FitBit can add just about all of these features in the future, since they are just software-based features. For the sake of battery life, FitBit could easily implement the continuous alarm by checking to see if the watch is actually on your wrist (which it does anyways for the heart rate monitor), and if it is, the alarm goes off continuously until it shuts off. If it isn't on your wrist, it could either remain silent or buzz a couple times like it normally does.Again, these are issues that FitBit can solve in the future with software updates. After a month, FitBit has still not added any of these features.-------------------------------------------------The Ugly:I had major issues out of the box. The left button, which is used for going through the menus, was very problematic when I first received the Surge. Barely touching the button with constant pressure (not even enough to press it in), would cause it to think that it was being pressed very quickly, and would bring up the music control screen... Again, and again, and again... Double-pressing that button is what should bring up the music control. Even clicking the button once firmly would make it think it was being pressed several times. I rebooted the Surge and still had issues, and that made it obvious that it was a hardware issue with the button, not a software problem. I was about to contact FitBit and send it back, but decided to spend a few minutes gently pressing the button to get it to sort of break in. Surprisingly, it worked! I haven't had any issues since then.-------------------------------------------------What I haven't been able to test:I have not been able to test GPS, since I hate Winter weather. I also don't plan on using it for the music control, and it seems that you must enable "Bluetooth Classic" in settings in order to use it. This would most likely lead to worse battery life since it would probably be using normal BT instead of BT Low Energy, so I don't want to enable it.-------------------------------------------------Four Stars: Lack and limitations of basic watch features, such as a stopwatch and alarm, is a major problem. A month after receiving it, FitBit has still not added any of these features, and other users are also complaining about it in their reviews. Battery life is worse than advertised at 4-5 days on average, and this is with no GPS use. There was a week when I was sick and didn't exercise at all, and it still only got five days of battery life. The button issue I experienced resolved itself, so that isn't affecting my rating, however it is a bit bothersome to see an issue with a simple button on a $250 watch. The lower than advertised battery life, lack of added software-based features, and inaccurate everyday HR monitoring dropped this from five stars to four stars.
December 12, 2014
I love my Surge watch! It has helped me stay on track with my diet. I will admit I almost entirely it back because it gave me a horrible rash on my wrist after 2 weeks of wearing it. I switch arms to let the rash heal. I then got this ingenious idea of trying to design a fabric band to add a layer between the watch and my skin. It didn't work too well. I then came up with an idea to mole skin that is used to protect your feel from getting blisters while wearing shoes. So I cut the pieces of mole skin to fit the areas of the watch that caused the rash and applied it to the inside of the watch using the normal adhesive that is on the back of the mole skin. I've been wearing it on the wrist I didn't get the rash on for about 3 weeks now. No rash has formed nor does my wrist smell from wearing it. You should definitely try it out from the beginning.
May 22, 2015
Excellent!
When the Surge was first announced at the end of last year, we were massively excited, and the company's claims that it was a "fitness super watch" seemed reasonable. A few months on though and the Garmin Vivoactive has been announced, with its endless array of sporty features, and the Surge now really only has the 24/7 heart rate monitoring as its USP. The design is dated at best, ugly at worst, the smartwatch functions are incredibly basic, and we're not convinced one of its key components – GPS tracking – is entirely accurate. However, as an everyday activity tracker, it's great, and for casual runners getting into heart-rate training it might just be the answer. However, at £199 / $249, it may be too pricey a stepping stone for some.