We review the new Polar Loop to see how it stacks up against the other new activity trackers released in 2014
The Polar Loop is the latest in a series of activity trackers designed to be worn all day on your wrist, following on from the success of Nike's Nike+ FuelBand. It gets closer than most to mimicking Nike's features for a significantly lower price – but it has its own weaknesses too. What an in-depth review? You've come to the right place.
One of the Loop's biggest strengths is that you don't have to be tied to a particular brand of smartphone as you do with the iOS-exclusive FuelBand – you can simply strap it on and go, although it will play nicely with an iPhone if you have one. It also becomes much more useful once you create an account on Polar's website.
Getting started
Apart from the device itself, all you get with the Loop is a wristband adjustment tool and a USB recharging cable.
The Loop is only available in one size and has to be cut to fit your wrist. This involves taking the clasp off using the supplied tool, then measuring your wrist with the paper guide and cutting the wristband to the relevant size. It sounds like a hassle but it's well worth it since it ensures a perfect fit so the Loop won't rub or irritate your wrist when on the move. The stainless steel clasp securely locks the Loop to your wrist, and never came loose during our testing. The wristband itself is light but also rather rigid – you'll certainly feel it if you roll on to your arm in your sleep.
You don't have to disassemble the Loop to charge it – the magnetic connector is built into the wristband. The cable is held firmly in place by the magnet and the screen lights up to indicate it is charging, so you can always be sure you've connected it properly.
Polar has opted for a proprietary charging connector, which makes it difficult to charge when you're out and about. Nike's FuelBands have a convenient built-in USB plug, and other rivals such as the Withings Pulse use a micro-USB port which will work with just about any (non-iOS) smartphone charger.
Once it's charged, you can strap on the Loop and it automatically begins tracking every step you take. According to Polar, the Loop will last for five days on a full charge, but in our experience we were down to 10% of a full charge in less than four. You won't want to leave the house with a low charge, unless you bring the USB cable with you, although we found that it does charge quickly. It went from 20% to 90% in under 15 minutes, which is more than enough for a day's use.
Polar Loop Activity Tracker
Worn on your wrist, tracks your activity 24/7 and provides guidance and motivation to reach your activity goals; Shows daily activity, calories burned, steps taken, time of day and activity feedback ...
Made by: Polar, Available:
In stock
How does it work?
Like most other activity trackers, the Loop uses an accelerometer to track movement. It logs every step you take, estimating calories burned based on your movements. With no altimeter the Loop can't track elevation, but it at least works out how intensive your movement is at any given time – although it does label anything above a gentle stroll as 'very active'.
The rubber wristband is water-sealed, so you won't need to take off the Loop when taking a shower or going for a swim. It can't tell the difference between walking and swimming, though, so your swim will simply count as very active movement.
Where the Loop sets itself apart from other fitness trackers such as the Fitbit Flex is with its red LED display. It has four modes: Steps, Time, Calories burned and Activity. The first three display your numbers for the current day, while the Activity mode gradually fills up a bar to indicate your progress towards your daily goal, which is calculated using the data you add when registering the Loop. The LEDs are brightly lit and we had no trouble reading the display under bright lights or when outdoors.
For more detailed information about your daily progress, you sync the Loop to a PC, Mac or smartphone and use the Polar Flow website.
Syncing your data
To download and keep track of your data, you need to create a Polar Flow account. It's a quick, simple, and most importantly free process, where you're asked for your age, height and weight, which are used to calculate your BMI. Unfortunately there's no way to enter your stride length, so the Loop won't differentiate between small and large builds.
Once you're registered and have installed the Flow Sync software for either Windows or Mac OS X, connecting the Loop to your computer will automatically sync the device and open your web browser to the Polar Flow website.
The online Polar Flow portal is still in beta at the time of writing and it's very much a work in progress, with no way to enter training sessions manually. You'll need to use the Polar Beat app to track your runs, otherwise you're limited to the Diary view. Here, you can chart your daily activity using a visual diary which displays the time you spent lying down, sitting, standing, walking and running. It counts the number of hours you slept per night, but gives no advice on improving your sleep patterns. Inactivity alerts are displayed here, showing you when you had been sitting still for an extended period of time.
The wristband doesn't vibrate to remind you to take a break from your desk, which would have been much more useful than a notification you'll only see at the end of the day. You can't set yourself specific targets like walking a certain number of steps or burning a set number of calories, either.
Unfortunately there's no way to add other training or gym sessions to the diary without the optional heart rate monitor. This uses the LED display to show your actual heart rate, as well as let you know when you're in the right heart rate zone for fitness or burning fat. However, this adds an extra £44 to the cost of the Loop, and is another gadget you'll have to wear while exercising.
There's an in-depth social aspect, which plots the rough locations of other Polar users on a map and generates visual routes of their runs using Google Maps and StreetView, but again only for those using at least one Polar smartphone app or the heart rate monitor – by itself, the Loop is solely a fitness tracker.
There's an app for that
You don't need to be tied to a computer to synchronise your data – as long as you're an iOS user. The Polar Flow app is free to download and can sync the Loop to your Flow account, but there's currently no Android alternative. Anyone with an Android device can of course still sync through their PC, but it's an extra step, something that Polar should remedy in the future.
The Loop uses the low-power Bluetooth Smart standard, so once you've installed the app and paired it to the wristband it will be constantly connected to your phone, beaming updates to the app so it's always up to date when you open it. The app shows almost all the same information as the web portal, so you may not need to use a PC at all – at least until Polar adds more features to its website, anyway.
Verdict
A proprietary charging connector and lack of an altimeter means the Polar Flow isn't the perfect fitness tracker. Although the built-in display is a major positive point, as is the very reasonable £80 price, it's an almost entirely passive device; with no way to set goals and no Android support at the time of writing, it's clear to see why Nike's FuelBand SE commands a £50 price premium.
Score: 7/10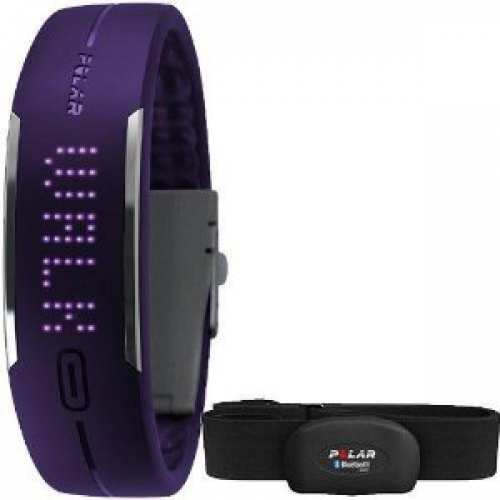 Polar Loop Activity Tracking - Black For anyone who wants to track their activity 24/7 and get guidance to reach activity goals.Activity Guide helps you stay active all day long Activity Benefit gives feedback about your daily, weekly and monthly activity Displays daily activity, calories burned,...
I've had this for about 3 weeks now, so I feel like I can accurately write a decent review.First of all, this is the first tracker I've seen that's more than a glorified pedometer. As someone who lifts weights for fitness and doesn't do cardio, those other trackers that focus more on steps than anything else are useless. The fact that this comes with a HRM helps a ton! Squatting doesn't take "steps", but maxing out on squats gets your heart rate up pretty high. For that reason I invested in this guy.The design is decent - it's no larger or smaller than the average band. It's slightly bigger than the FitBit and doesn't have the option to change out the design. Be careful with sizing it - it's one of those things where you cut the band to make it fit. Once you cut there's no turning back!It's also ACTUALLY waterproof. I've swam with it, I've showered with it, etc. with absolutely NO issue to the design or integrity of the device. That's really helpful for swimmers or people who forget to take it off when they shower (me).A design con, however, is how responsive the touch screen is. The "button" you press isn't so much a button as it's a very sensitive touch screen. I've had trouble shifting around in moving theaters and setting off the bright screen and making people around me look. In the future having an ACTUAL button might be useful to prevent these issues.It pairs seamlessly with the HRM, which I love. Make sure when you put the monitor on you press the button through to make sure it's joined to the device. I've exercised once or twice and apparently the HRM didn't sync with it 🙁 Oh well!Overall I'm very happy with this product, and it's an amazing step forward for these types of devices.I hope in the future they offer what others fitness devices offer - a chance to synch it to your MyFitnessPal/LoseIt/etc. so you can track ins and outs. That's not currently an option.
October 15, 2014
I love this product. I had the Fitbit Force (which was recalled for band issues) I first like it because the band is way more secure. Though it's waterproof vs water resistance, which is another plus. Being waterproof is another reason I chose to purchase this one vs waiting on the next Fitbit to come out. I don't have to put on a separate watch to do my heart rate anymore. The only thing that I feel needs work is the app. I would like to set my own goals, and it to update in the background on it's own. Once that is done I will give it a 5 Star. I'm not too worried, I remember Fitbit took a little time to get their app working at a better performance.
September 23, 2014
I've had my Polar Loop for almost 2 months now and would give it about 3.5 stars. Prior to owning the loop, I had a timex heart rate monitor for workouts and have not owned other fitness bands like fitbit or jawbone so I can't compare it to these other brands. Here is my list of likes and dislikes!Likes:1. Directions for pairing the loop with the HR monitor was easy to follow and tracks my workouts well without interruptions in the connection. I really like the analysis of the training session you get with Polar Flow and being able to see my HR trend in graph form. I felt it also gave a reliable estimate of calories burned during each workout session.2. The wrist band has a sleek design and I found it to be really comfortable to wear. If cut to the right size, you barely notice that you have it on.3. The touch button on the band is very responsive. The screen on the wrist band shows you pretty much all the info you need in real time (steps, calories burned, time, etc) and is intuitive/easy to use.4. Polar loop syncs with myfitnesspal to automatically add your workout info as well as additional calories burned from your daily activities.5. The H7 heart rate monitor is comfortable to wear. I bought it separately from the loop in size small and it fits me well. An additional bonus that I found out after purchase was that the HR monitor also works with most of the cardio machines at my gym, which means that the machine continuously displays my HR and I don't have to keep checking my band to see what my HR is!6. The loop tracks steps, as well as the time you spend lying down, sitting, standing, and walking during your day.Read more ›
April 4, 2015