Anyone considering buying a fitness tracker this Christmas will certainly have their eye caught by the Misfit Flash. An update to the existing Misfit Shine, it offers all the same functionality but at just $50 it's nearly half the price.
But is this the best cheap fitness tracker to buy this Christmas, or is it simply another budget compromise? We put the Misfit Flash through its paces to find out in our in-depth review.
Misfit Flash: Features and design
When you take your flagship product and halve the price, build quality is usually the first casualty – and the Misfit Flash is no exception to this rule. Plastic prevails over metal and the curiously attractive metallic, er, shine of the Shine is replaced by dull matte finish on the Flash.

Misfit Flash - Fitness and Sleep Monitor (Black)
Sporty design; comes in a variety of colors; ultra comfortable and water resistant to 30 meters. Never requires charging; replaceable battery lasts up to 6 months.; Measures daily activity and sleep, ...

Made by: Misfit Wearables, Available:

In stock


The good news for design aficionados is that Misfit has released the Flash with a series of bright and bold colours, which makes choosing your ideal band a little more personable. They seem to be aimed at the younger audience, as few of the choices naturally pair with business wear.

The design differences aren't all cosmetic, however. Misfit identified that the Shine's strap was inadequate for holding the unit in place, and that the touch-sensitive face for accessing goal progress and the clock was frustrating to use – so these have been addressed. The surface is now a physical button with brighter LEDs, and the Flash slips into the back of the strap, meaning it can't fall out.

It still boggles the mind that Misfit can't secure its tracker effectively within a strap. Yes, thanks to the laws of physics the Flash can't slip out due to the pressure of your arm, but pressing the button is enough to worryingly disengage the disc from its housing and cause it to sit misaligned in the cradle.

Back to the plus points though and the design is fully waterproof, so not only will it survive the shower it can also be used in the pool, which headlines an impressive line-up of features that outstrip many of its rivals.
Misfit Flash: Activity tracking
In terms of activity tracking, the Misfit Flash certainly does more than your average fitness band.
First up is steps and sleep tracking, which is the standard fare of any activity tracker in 2014. We found both to be extremely accurate, tracking inline with other wearable devices, such as the Withings Pulse Ox and Pebble smartwatch (using the Misfit app).
Sleep tracking is automatically detected, so there's no need to remember to switch on a sleep-tracking mode, as with competitors such as the Withings Pulse.
However, unlike other basic trackers, you can specify when you're about to start exercising. The Misfit Flash will track running, swimming, walking, cycling and even tennis and basketball.
The reason it's adept at tracking so many sports is because the Misfit Flash can be positioned on more than one point on the body. If you're swimming or walking, it wants to be on the wrist; but for cycling you should put it on your shoe for best results.
While the onus is on you, the user, to carry around the secondary clip and remember to start and end the tracking procedure, it makes the Flash much more versatile than trackers like the Withings Pulse or the Fitbit Flex.
What's more, by working on the foot, the Flash will track gym cycling, where more expensive sports watches that use GPS will be utterly stumped. Very clever stuff indeed.
However, the interpretation of this information is key to the Flash's longevity and usefulness, so read on to find out how the app fared in our tests.
Misfit Flash: App
There's no question the Misfit Flash is an incredibly adept tracker, and its versatility puts it head and shoulders above its competitors. However, despite a recent redesign of the app, the analysis side of the equation still leaves a lot to be desired.
The app itself is much improved, especially on Android, which was nearly devoid of any features back in May 2014. The iOS app was always more feature rich, and looks good with activity categorised day-by-day, which is easy to swipe through and examine.
However, when you delve in, there's little to peruse or analyse.
A simple graphic shows your steps, calories and miles walked, with two graphs showing goal progress and the points you were most active in the day. You can also pull up and any periods of activity are marked, such as your run, cycle or swim. Unfortunately, there's zero information about your performance to look at, such as strokes, pace or distance to review – just a meaningless points score.
The lack of analysis is a real let down, because it undermines the great strides Misfit has made in making the Flash so potent.
The woes continue for sleep tracking, too. Tap the sleep tab and you can see a graph of your light and deep sleep and a figure of the amount of restful sleep you achieved. There's little explanation in the app of what "restful sleep" means, and the graph is so small and the scale so vague that we quickly lost interest.
The alarm was also nearly useless, using iOS at least, because like any other third-party app, it requires your iPhone to be kept awake in "lights out mode", making it less effective and user friendly than the standard Apple offering.
One good part of the app is the social aspects, where you can see how friends that use Misfit wearables are performing, which can be an extra little motivator.
It's also compatible with Apple Health, but for now the only information that the iPhone's fitness tracking app pulls in is step data.
Misfit Flash: Battery life
Battery life is an area that the Misfit Flash excels, and like its older brother the Misfit Shine, it uses a watch battery that keeps it powered for six months or longer.
While other devices such as the Fitbit Flex or the Withings Pulse need charging every few days, not having to frequently juice up your device is a huge benefit, and the less time the device spends on charge, the more time it will spend tracking your life.
---
PROS:
Exceptional battery life
Fantastic price
Not just a step counter
CONS:
Light on usable data
Not exactly chic
Strap still extremely flimsy
---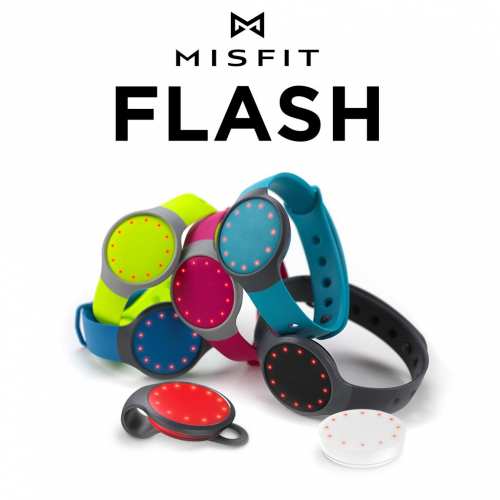 Get fit with Misfit Flash, a sleek, sporty fitness tracker that measures your activity and sleep, syncs with your smartphone, and comes in a variety of colors. Press Flash to see a halo of lights that shows your progress toward your daily activity goal and tells time. Flash never requires...
Deals
Specification
Photos
Last comments
| | |
| --- | --- |
| Brand Name | Misfit Wearables |
| Item Weight | 1.6 ounces |
| Product Dimensions | 3.4 x 1.2 x 3.5 inches |
| Item model number | F00AZ |
| Batteries | 1 Lithium Metal batteries required. (included) |
| Operating System | Apple_iOS, Android, _Windows, _Amazon_Fire, Apple_iOS, Android, Windows |
| Number of Items | 1 |
I ordered a Flash direct from Misfit and have had it for about two weeks now. I actually came to Amazon considering ordering another for my son and saw some negative reviews and wanted to give my own impressions. I've been active in fitness for over five years now and I am primarily a runner that does 20 to 50 km a week, as well as other activities like swimming, indoor rowing, and gymnastics. I use a Garmin device to track my running but wanted a 24/7 activity tracker as I am originally from California and now in the midwest, and with winters to deal with want to have something to make sure I am active on cold days.For swimming, my Flash has handled about five sessions from 15 mins to 30 mins doing freestyle laps with no problems. Additionally, I've worn in showering and the waterproofing on my device has been fine. Other reviewers have had problems from what I read here at this time (October 2014) and my guess is they had either unfortunate luck or were swimming at depths not supported by the device -- unlike the Shine, the Flash is only 3 ATM instead of 5 ATM.Bad units would not be a problem if Misfit's support stepped up to replace defective devices, and it seems "Mike" who has responded to some people here offers to do that. Misfit could be better at showing their support -- I used feedback at misfit dot com when I wanted to give some suggestions to their iOS application, which got me an immediate "we got your mail" response, and then silence for several, several days. My email didn't have a problem that needed a solution; just feedback on a few minor areas that I felt needed improvement. I did get a response that started with an apology that it took so long to reply as apparently Misfit's email system had some problems.Read more ›
October 30, 2014
Disclaimer: I am using this device with iPhone 6 Plus running iOS 8.4 Will update review as I use Flash more.Read more ›
October 17, 2014
I bought this for my wife as a Christmas present. She wanted a fitness tracker and this one had all the right features and looked pretty cool too. It had the bonus of being able to go into the wrist strap or the clip (she clips it on her shoe for accuracy while walking). At first she was over the moon with it. She loved the features, loved the app, and was having fun making sure she got her steps in every day.Then, after a few days, she was walking through our living room and we heard a "snap" and it fell off her wrist. The wristband had snapped and let the flash fall out. She picked up the flash and it was dead. Thinking it was a freak thing, we had it replaced (yay Amazon!) and she was happy again.But then today she came to me and showed me that the new band had cracked too (see photo). This time it didn't come off her wrist so the flash itself still works, but the wristband is now useless.I emailed the company after the first band broke (and I couldn't find any replacement bands for the flash online) but never received a response. That was disappointing.So, it's going back. The idea of a "fitness tracker" being so fragile seems strange to me. These devices are designed to be worn while working out, yet even with very light use the cheap wristband snaps, and if you're unlucky the flash falls to the floor and stops working. A cheap children's watch is made of sturdier stuff!We're going to look for something that can actually last for more than a few days.So while we initially loved the device, we're now disappointed all around. Poor quality, poor durability, and no customer service to speak of.
January 12, 2015
The Misfit Flash's excellent array of features at a great price shows why you shouldn't need to pay over £50 for a basic activity tracker. While the design and build are still far from perfect, and the analysis of your daily activity has a way to go, Misfit just made activity tracking accessible for everyone, and we're sure it's going to be a hit this Christmas. In order to score it higher we'd want a bit more detail within the app – an area we're sure Misfit will improve on over time.