Anyone considering buying a fitness tracker this Christmas will certainly have their eye caught by the Misfit Flash. An update to the existing Misfit Shine, it offers all the same functionality but at just $50 it's nearly half the price.
But is this the best cheap fitness tracker to buy this Christmas, or is it simply another budget compromise? We put the Misfit Flash through its paces to find out in our in-depth review.
Misfit Flash: Features and design
When you take your flagship product and halve the price, build quality is usually the first casualty – and the Misfit Flash is no exception to this rule. Plastic prevails over metal and the curiously attractive metallic, er, shine of the Shine is replaced by dull matte finish on the Flash.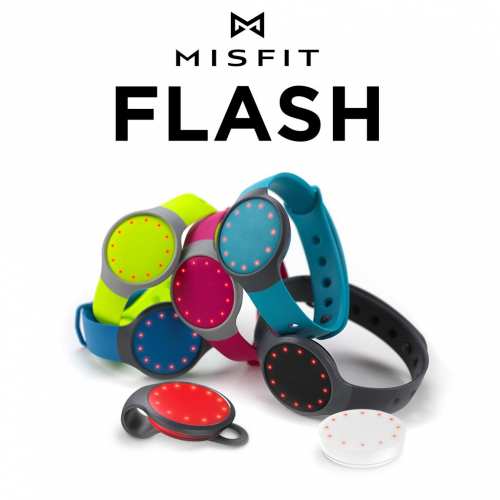 Show more images
Misfit Flash - Fitness and Sleep Monitor (Black)
$42.95

Sporty design; comes in a variety of colors; ultra comfortable and water resistant to 30 meters. Never requires charging; replaceable battery lasts up to 6 months.; Measures daily activity and sleep, ...

Made by: Misfit Wearables, Available:

In stock


The good news for design aficionados is that Misfit has released the Flash with a series of bright and bold colours, which makes choosing your ideal band a little more personable. They seem to be aimed at the younger audience, as few of the choices naturally pair with business wear.

The design differences aren't all cosmetic, however. Misfit identified that the Shine's strap was inadequate for holding the unit in place, and that the touch-sensitive face for accessing goal progress and the clock was frustrating to use – so these have been addressed. The surface is now a physical button with brighter LEDs, and the Flash slips into the back of the strap, meaning it can't fall out.

It still boggles the mind that Misfit can't secure its tracker effectively within a strap. Yes, thanks to the laws of physics the Flash can't slip out due to the pressure of your arm, but pressing the button is enough to worryingly disengage the disc from its housing and cause it to sit misaligned in the cradle.

Back to the plus points though and the design is fully waterproof, so not only will it survive the shower it can also be used in the pool, which headlines an impressive line-up of features that outstrip many of its rivals.
Misfit Flash: Activity tracking
In terms of activity tracking, the Misfit Flash certainly does more than your average fitness band.
First up is steps and sleep tracking, which is the standard fare of any activity tracker in 2014. We found both to be extremely accurate, tracking inline with other wearable devices, such as the Withings Pulse Ox and Pebble smartwatch (using the Misfit app).
Sleep tracking is automatically detected, so there's no need to remember to switch on a sleep-tracking mode, as with competitors such as the Withings Pulse.
However, unlike other basic trackers, you can specify when you're about to start exercising. The Misfit Flash will track running, swimming, walking, cycling and even tennis and basketball.
The reason it's adept at tracking so many sports is because the Misfit Flash can be positioned on more than one point on the body. If you're swimming or walking, it wants to be on the wrist; but for cycling you should put it on your shoe for best results.
While the onus is on you, the user, to carry around the secondary clip and remember to start and end the tracking procedure, it makes the Flash much more versatile than trackers like the Withings Pulse or the Fitbit Flex.
What's more, by working on the foot, the Flash will track gym cycling, where more expensive sports watches that use GPS will be utterly stumped. Very clever stuff indeed.
However, the interpretation of this information is key to the Flash's longevity and usefulness, so read on to find out how the app fared in our tests.
Misfit Flash: App
There's no question the Misfit Flash is an incredibly adept tracker, and its versatility puts it head and shoulders above its competitors. However, despite a recent redesign of the app, the analysis side of the equation still leaves a lot to be desired.
The app itself is much improved, especially on Android, which was nearly devoid of any features back in May 2014. The iOS app was always more feature rich, and looks good with activity categorised day-by-day, which is easy to swipe through and examine.
However, when you delve in, there's little to peruse or analyse.
A simple graphic shows your steps, calories and miles walked, with two graphs showing goal progress and the points you were most active in the day. You can also pull up and any periods of activity are marked, such as your run, cycle or swim. Unfortunately, there's zero information about your performance to look at, such as strokes, pace or distance to review – just a meaningless points score.
The lack of analysis is a real let down, because it undermines the great strides Misfit has made in making the Flash so potent.
The woes continue for sleep tracking, too. Tap the sleep tab and you can see a graph of your light and deep sleep and a figure of the amount of restful sleep you achieved. There's little explanation in the app of what "restful sleep" means, and the graph is so small and the scale so vague that we quickly lost interest.
The alarm was also nearly useless, using iOS at least, because like any other third-party app, it requires your iPhone to be kept awake in "lights out mode", making it less effective and user friendly than the standard Apple offering.
One good part of the app is the social aspects, where you can see how friends that use Misfit wearables are performing, which can be an extra little motivator.
It's also compatible with Apple Health, but for now the only information that the iPhone's fitness tracking app pulls in is step data.
Misfit Flash: Battery life
Battery life is an area that the Misfit Flash excels, and like its older brother the Misfit Shine, it uses a watch battery that keeps it powered for six months or longer.
While other devices such as the Fitbit Flex or the Withings Pulse need charging every few days, not having to frequently juice up your device is a huge benefit, and the less time the device spends on charge, the more time it will spend tracking your life.
---
PROS:
Exceptional battery life
Fantastic price
Not just a step counter
CONS:
Light on usable data
Not exactly chic
Strap still extremely flimsy
---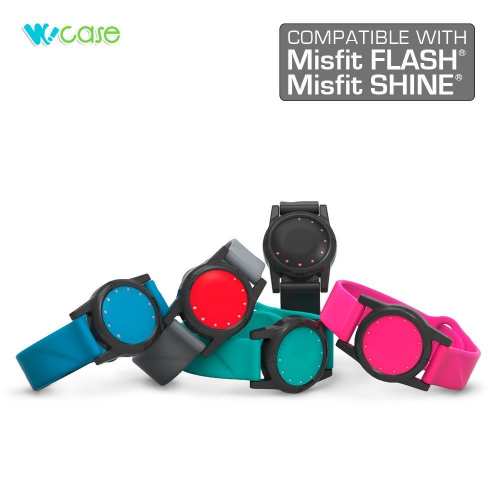 Best wristband (patent pending) for Misfit Flash activity tracker. Improved Securing Design and Stylish. Personalize your wristband to match your daily style with these brand new color choices. Perfect fit for your Flash activity tracker and comfortable wearing experience. 30 day money-back...
Deals
Specification
Photos
Last comments
| | |
| --- | --- |
| Shipping Weight | 0.8 ounces (View shipping rates and policies) |
Why didn't Misfit produce a band like this for the Flash to begin with? Simple, sturdy, decent-looking. It fits my tiny wrist and has two tighter notches to spare. I would strongly recommend anyone considering a Flash to get this right along with it.-- Update 7/31/2016 --I have been using this band daily since purchase in January 2016, and it is holding up fine. My son also uses one and his has been equally sturdy. Neither has had any problems with the back popping off, the sensor falling out, or any other problem to do with the band.
January 14, 2016
This wristband is extremely nice. I love that it "loads" the Flash in from the back of the strap toward the front. I had another brand of band that loaded from front side and I lost my Flash in first 4 1/2 hours of having it. (Did find it after extensive search.) Quality of this band and it design appears that it would last for some time. Unfortunately when it says "Fits Most" it means anyone with an 8" wrist or smaller. Not a problem for many but it is for me. Just be aware that this high quality band will not fit a wrist larger than 8" without creating extreme pressure on your wrist. It would be very nice if this manufacturer came out with a longer wrist band. I would then definitely buy their bands again but until then...........
January 1, 2016
First the good: It's a much more robust band than the standard one from Misfit. It's more like a standard sport watch band with the flexible plastic bands pinned to a hard plastic bezel. The bezel is much thicker than the standard band and should hold up much longer. It was also much easier to get the sensor button into the bezel than with the standard band.Now the not so good: The sensor doesn't snap into the bezel or get held by friction, like with the standard band. You load the sensor from the back (like with the standard band) but the sensor is loose in the bezel. It's held in by a separate hard plastic back cover that clicks into place. The sensor will not turn once everything is loaded correctly, but the back cover is the only thing holding the sensor in place. At some point in the first couple of weeks, my back cover came off while I was wearing my Flash and I almost unknowingly lost my sensor when I went to push the face to see my status. That was not good. Now, it wouldn't have been a total disaster, given that I could replace everything fairly cheaply, but it did give me some concern going forward. Luckily, I was able to find the back cover at home and get everything put back together securely. I'm not sure if I didn't have the back cover clicked on correctly or if it just came loose because of the design, but it should have been designed more securely either way.The other issue is that this is not going to work for large wrists. My wrists are not the biggest and I have the band on the last notch. I would say that if the standard band is either too small or if you have the standard band on the last notch then this may not work for you.My last little quibble is that it's a little odd how it goes on your wrist. With a standard watch band clasp, the loose end stays on the outside and has a loop that keeps the loose end contained. With this band, the loose end feeds underneath the clasp end. It might be a little difficult to put this band on your wrist vs. a standard watch band.Overall, it's a definite improvement over the standard Misfit Flash band. I definitely feel it's more secure...as long as the back cover will stay on.
May 23, 2016
The Misfit Flash's excellent array of features at a great price shows why you shouldn't need to pay over £50 for a basic activity tracker. While the design and build are still far from perfect, and the analysis of your daily activity has a way to go, Misfit just made activity tracking accessible for everyone, and we're sure it's going to be a hit this Christmas. In order to score it higher we'd want a bit more detail within the app – an area we're sure Misfit will improve on over time.