1
What is the Withings Activité?
Most activity trackers are ugly, awkward things. Their rubber straps and little LED displays are fine at the gym, at home or anywhere that's informal, but you don't want them dangling from your arm when presenting to the board, attending a wedding or in any setting where you need to 'look the part'. The Withings Activité is the exception.
It's a marriage of the old and new. Old-school watchmaking and watch design; new-school wireless technology and sensors. It tracks your steps, runs and sleep, but it has the style and pedigree of a Swiss-made watch. Many will prefer the cheaper Activité Pop (£120), but if you have a taste for the finer things in life then the Activité is a luxury statement worth considering.

Withings Activite Activity and Sleep Tracker
Here is a list of steps you can try while setting up your Withings Activit
Made by: Withings, Available:
In stock
The Activité ought to look good given the price, and it does. It's available in white with a brown leather strap and blue accents, or black with a black leather strap and orange accents. We tested the white and brown one, but both look great.
But looks alone don't explain why the Activité costs more than twice as much as the Pop. It mainly comes down to materials and pedigree. The Activité is made from stainless steel, comes with two straps – a leather one and gym-friendly rubber one – and has a domed sapphire crystal. The latter is impervious to scratches and is very strong. Withings also throws in an extra battery and each lasts eight months – no chargers here.
The other key difference is that the Activité is 'Swiss-made'. We'll leave you to debate the point, but the key benefit is you can tell people it's Swiss-made. It's like Champagne versus Cava – they both have bubbles, but you feel superior drinking one and drink the other ironically. The Activité is as much a fashion item as a gadget.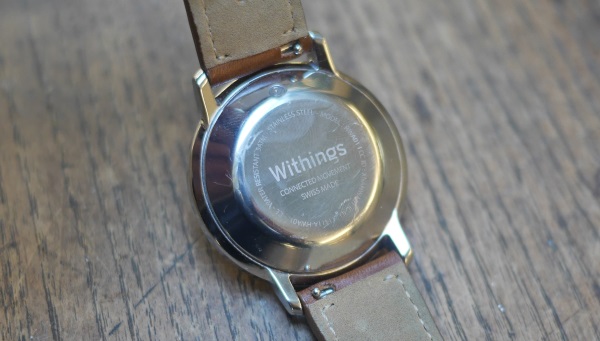 That's where the differences between the Activité and Activité Pop end. They share the same basic watch face design and have the same tracking abilities, which comprise steps, running, sleeping and – in a future update – swimming. Neither, sadly, feature an altimeter, so they can't measure the number of stairs you climb. They're both waterproof to 50m and are dustproof.
The Activité is the nicer looking of the two, though, even if it's by a small margin. The stainless steel finish and leather strap give it a more classical look, whereas the coloured metal and silicone strap on the Pop has a more everyman, Swatch-like appeal. The straps are removable on both, though, so no there's no reason a Pop owner can't buy a nicer leather strap – the width between the strap lugs is 18mm, so there's plenty of choice out there.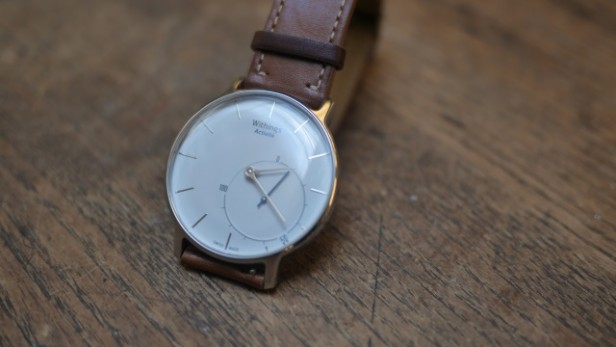 What makes both so attractive is their neat simplicity. The Activité isn't a smartwatch in the modern parlance – it's a 'smarter' watch. Yet the only visual evidence is the smaller dial on the watch face, which tracks your daily step goal progress. It's an elegant, at-a-glance reminder that works perfectly.
There's nothing particularly ostentatious about the Activité, either – a likeable trait. It's stylish and classy, but not in a "look at me!" way. It's also very comfy, in large part thanks to the slim unisex leather strap – I'm not a habitual watch wearer, but the Withings doesn't irritate me the way smartwatches often do.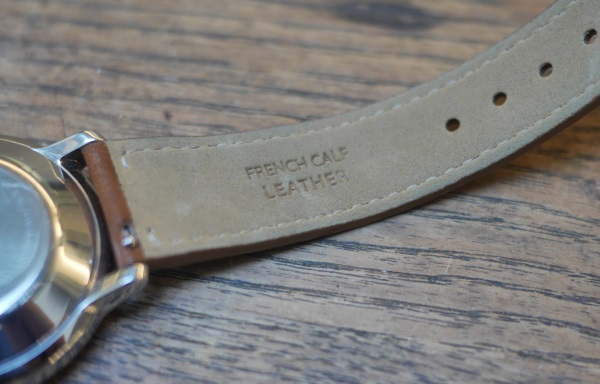 It's debatable whether this is truly a unisex watch, though. It's not huge – the case is 36.3mm in diameter – but ladies with slim wrists might find it a tad large. It also protrudes further from the wrist than you'd expect, thanks to the extra sensors inside. I got used to it quickly, but it's not the best if you prefer a super-slim watch.
But these are just small quirks. If Withings' aim was to create an outstanding watch that just happened to be an activity tracker, it's succeeded.
3
Withings Activité – Setup & Healthmate App
No activity tracker is complete without an accomplished app to go with it. The Withings Healthmate app is just that, but it comes with one huge caveat – right now, the Activité isn't compatible with Android. Withings promises an Android update in the coming weeks, but until then Android users are bang out of luck.
This large oversight aside, the Healthmate app is good. It's not the very best among its rivals, but it delivers where it needs to. It's colourful, easy to navigate and presents information in a straightforward, easy-to-understand way. It also supports Apple Health app syncing, something rival Fitbit has shied away from. Excellent support for third-party services, such as MyFitness Pal, ensures it plays nicely with other apps you're likely to use.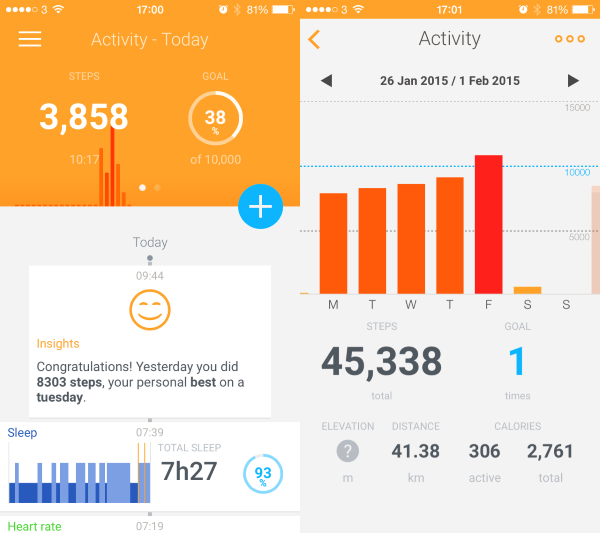 What it lacks is the more proactive, analytical feedback offered by some rivals – Jawbone is especially good for this. For example, it has a section for setting up helpful, life-enriching reminders – such as sticking to a single bedtime, taking a walk after dinner, and remembering to weigh yourself regularly – but it doesn't dynamically prompt you based on your activity.
This means it'll often congratulate you on hitting records, but it won't nudge you when you're falling short, and a well-directed nudge is often more important. Moreover, as most notifications are scheduled, they're also repetitive. The more repetitive they become, the easier they are to ignore and the less effective they become.
Withings wins points for its excellent ecosystem, however. There's a myriad of clever and effective accessories that hook into the Withings Helathmate app, such as the Smart Body Analyzer and Wireless Blood Pressure Monitor. It also has some neat touches, such as the ability to read your resting heart rate using your phone's camera. There's so much room to grow here and the Activité proves that Withings is dedicated to real quality, which shines through in all its products. You could do worse than to invest in the Withings 'health ecosystem'.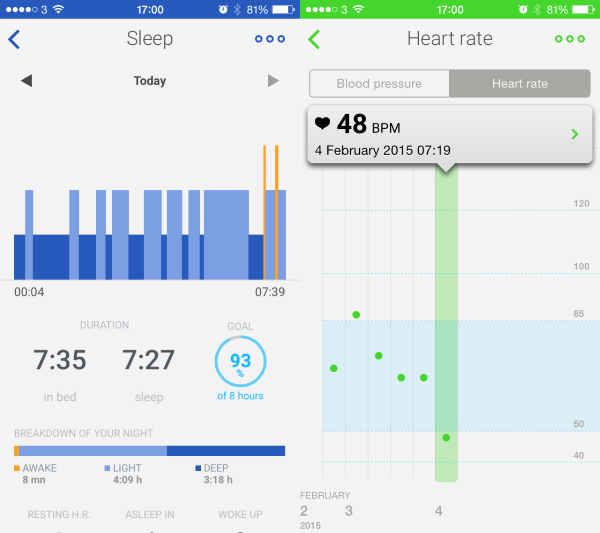 Setting up your Activité is very simple, too. It connects to your phone using Bluetooth 4.0, which means you don't have to anything to setup the connection – the app automatically connects when you open the app. It sometimes takes a little longer than we'd like to make the connection, which is irritating when you launch the app and you want to see the latest data straightaway, but at least there's no messing about involved in making the connection.
4
Withings Activité: Performance & Tracking
We had no problems with the Activité's tracking through our use. It accurately recorded daily steps with great consistency, and did the same for running. It struggles more with 'mixed activities' where you're switching between running and walking – or slouching – but that's not unusual for this kind of tracker.
Sleep tracking works OK, too, though we often feel there's lots of guessing involved in judging light versus deep sleep in all trackers. The total sleep stats are the most instructive and provide a useful guide to whether you're getting enough shuteye. The Activité also features a 'silent' alarm – it vibrates when it's time to get up. This works well enough, though it's quite a light vibration – heavy sleepers may want to set a fallback alarm in case it doesn't stir them.
Our only serious complaint with the alarm system is the inability to set a different one for the weekend. Perhaps this is intentional so you stick to your routine, but waking up at 6:30 on a Saturday morning isn't a routine we're keen on. You can turn the alarm off, of course, but that relies on your remembering to do so, and turning it on again before Monday morning.
5
Other things to consider
One small feature that doesn't work as well as advertised is the 'responsive glass' feature. The idea is you can tap the glass to reveal your alarm time, but it often takes several attempts before the arms actually move.
We do like the timezone feature, though, which ensures the watch will automatically switch to the timezone you're in when your phone does. It's a neat piece of attention to detail and a cool thing to brag about to 'luddite' watch lovers.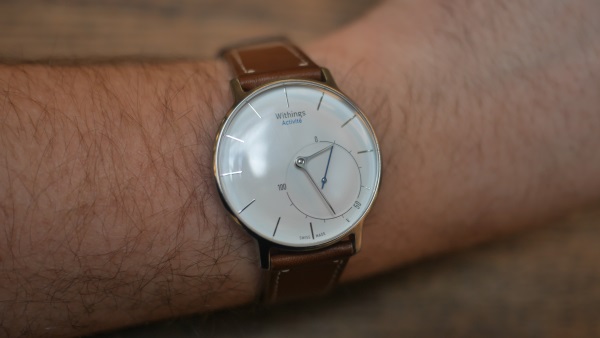 6
OtShould I buy the Withings Activité?
Inevitably, it comes down to whether you think it's worth spending extra for the Activité over the Pop version. The difference in price – £320 vs £120 – is large and the difference entirely down to the design and materials used. A high-quality leather replacement strap and a Pop will still come in at less than £200.
We can't answer that question for you, but we can confirm that the Withings Activité is an exquisitely made watch and a very capable tracker. We love the long battery life, the beautiful and comfortable leather strap, and the faultless build quality. You're paying for quality and getting it.
That may be enough if you value its finer design and 'fashion statement' it makes. If not, go for the Activité Pop – you won't be disappointed either way. If you're less fussed about looks but want a tracker that shows the time and some useful info, take a look at the Fitbit Charge, though the Jawbone UP24 remains our no.1 best fitness tracker overall.
An outstanding and stylish tracker and watch, provided you don't mind the price attached.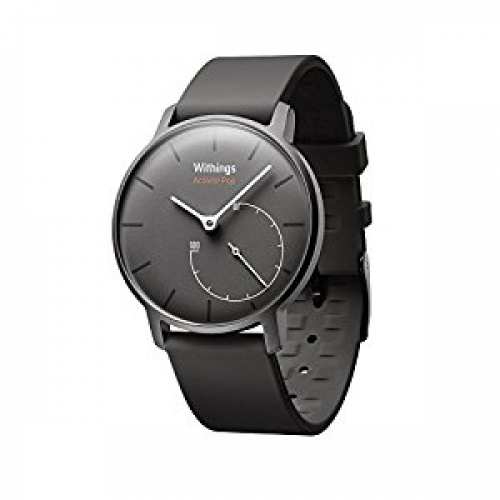 Enter your model number to make sure this fits.; Sleep monitoring: Sleep cycle analysis (light and deep sleep) silent alarm to start your day with a gentle wakeup vibration; Funtowear materials: Activate pop's design extends across the pvdcoated watch case and the smooth silicone watch strap;...
Deals
Specification
Last comments
| | |
| --- | --- |
| Product Dimensions | 3.2 x 3.2 x 0.5 inches ; 6.6 ounces |
| Shipping Weight | 7.8 ounces (View shipping rates and policies) |
| Domestic Shipping | Item can be shipped within U.S. |
| International Shipping | This item can be shipped to select countries outside of the U.S. Learn More |
| Item model number | HWA01_53-Parent |
I've had this now for about a month. Had the microsoft band and liked the features but hated the recharging. Researched and found that the wrist-mounted heart rate trackers are useless over about 140 so I went back to chest strap for HR and just wanted a step counter for my wrist that I didn't have to recharge. The withings watch was the best thing I found and it's done exactly what I hoped it would. The little percent-done tracking hand is an unobtrusive way to see how much I've done. I can see it at a glance without having to press a button and it's not showing up in neon glow for everyone else to read. The sleep tracking is sort of useful as well - never could use my fitbits or the microsoft band reliably at night because they needed recharging. With this I can tell more about my patterns. For instance my deep sleep occurs right after I go to bed but not if I go to bed at 1am because my wife starts her restless period. Anyway, that's nice to have.Waited to review to try out the swim feature. They just pushed the update to me yesterday for me and went swimming today. As advertised, it just appeared upon sync which was really nice. I've always been annoyed at having to write down when I swim. While this doesn't integrate with apple's health app (yet - hopefully coming??) it's a very nice feature. Not sure how they are calculating calories - they do have weight but it seems effort dependent and i'm not sure pace gives you that. Anyway, you just see a duration, not a stroke count. Maybe that's coming. I've never had a fitness product that received automatic firmware updates - that's outstanding.Finally a quick thumbs up for their customer service. I had two questions for them and they responded to both within a day. It's nice to be as pleasantly surprised by a company as you are by their product.update: after six months I'm still wearing this watch every day. One battery replacement that went smoothly. They have moved the swim tracking piece out of beta and it's accurate in terms of time in the pool. The band is holding up well but it's my least favorite part - sort of cheap looking - something a 12 yr old would choose. Their online choices are colored bands. Not sure who they think their market is, exactly. Do kids really care about step counting? Having said that, my other watches are collecting dust as having the reminder that you haven't moved all day is a motivator, never having to stop to recharge it makes it easy and not having to think twice when you head for the pool seals it for me.
July 8, 2015
I've owned a Activite Pop for about three weeks now and am very impressed. I owned a Misfit Shine, but the unit fell out of the band after about six weeks of wear. In addition to a better design and build, I like the following about my Pop: (1) unlike many other activity devices, this runs on a watch battery for about eight months and doesn't need constant recharging; (2) it is no bulkier or obtrusive than any watch; (3) it is very easy to set up, connecting easily to my iPhone 5s (so, you don't need the most recent iPhone); (4) the app is wonderful, tracking my steps, miles, calories, and sleep activity; (5) none of these activity monitors give precise measurements, but that isn't the point, as the measurements I'm receiving are still very accurate; (6) it connects wonderfully with the Withings Smart Body Analyzer, tracking my weight, pulse, BMI, and the air quality of my home; and (7) it is water resistant so I never take it off (which is the point of an activity monitor). I've researched a lot of activity monitors on the market and, for someone like me who just wants to monitor basic fitness (and not precise measurements of pulse and blood presssure), it is hard for me to imagine a superior device for $150.
January 18, 2015
Update 11/30/2015: this watch lost a star based on a couple of glitches and the battery life. I received an email about my watch battery that is low and it has only been 3 months. It said the alarm is the item that kills the battery. The issue is there is no way to stop the alarm when it goes off. If there was a tap feature to stop the alarm, it would save the battery life. I also lost a whole days steps when I ran a 5k and RunKeeper was connected.I have had this watch for about two months and really like it. I used to have a Fitbit Flex but lost it when it fell off because of the faulty strap. I compared the Fitbit Charge, Garmin Vivofit 2, and a few others but ultimately chose this watch based on the pros outweighing the pros on all the other fitness trackers. Jumping straight to the pros and cons, here we go.Pros:-looks like a watch and not a weird fitness tracker on your wrist-8 month battery-water proof (I take showers, swim, and never take my watch off)-well developed app (IOS)-watch bands are easy to replace and watch strap is a standard size in case you wanted a custom bandCons:-the back of the watch is round (I'm guessing to fit Bluetooth, accelerometer, etc) and doesn't sit very flat on my wrist. (I have included a picture on what I am trying to explain)-no available backlight. I did not realize how much I used previous watch backlights to until it wasn't available.-a little smaller dial than I prefer (I was wearing a G-Shock before so that may have a little to do with it)-I don't believe the step count is 100% accurate (more on this later)Features I wish it had:-Backlight-Date dial: would save me time from checking my phone-Multiple alarms: should be an easy app software fix-bigger dialSo ultimately, I wanted a fitness tracker that I didn't have to take off weekly to charge, was waterproof, a watch, and didn't look like I had a weird bracelet on my wrist. I loved my previous Fitbit Flex's app and really wanted another Fitbit but none are waterproof and they had to be charged weekly if not more. Even though Garmin's Vivofit 2 is both waterproof and has a great battery life, the app has horrible reviews and what is a fitness tracker if the app crashes and doesn't work.The reason I don't believe the step count is 100% accurate are for a few reasons. One, when I ran with my GPS for two miles, it only calculated 1.4 miles. Also, my friend has a Fitbit Charge and we walked the same 1.2 miles and she had a couple hundred steps more. I understand people have different strides but we tried to maintain the same stride to see if we had the same step count.I will update this review as I notice more pros, cons, and features I would like to see in the future.
October 3, 2015