1
What is the Withings Activité?
Most activity trackers are ugly, awkward things. Their rubber straps and little LED displays are fine at the gym, at home or anywhere that's informal, but you don't want them dangling from your arm when presenting to the board, attending a wedding or in any setting where you need to 'look the part'. The Withings Activité is the exception.
It's a marriage of the old and new. Old-school watchmaking and watch design; new-school wireless technology and sensors. It tracks your steps, runs and sleep, but it has the style and pedigree of a Swiss-made watch. Many will prefer the cheaper Activité Pop (£120), but if you have a taste for the finer things in life then the Activité is a luxury statement worth considering.

Show more images
Withings Activite Activity and Sleep Tracker
$450.00
Here is a list of steps you can try while setting up your Withings Activit
Made by: Withings, Available:
In stock
The Activité ought to look good given the price, and it does. It's available in white with a brown leather strap and blue accents, or black with a black leather strap and orange accents. We tested the white and brown one, but both look great.
But looks alone don't explain why the Activité costs more than twice as much as the Pop. It mainly comes down to materials and pedigree. The Activité is made from stainless steel, comes with two straps – a leather one and gym-friendly rubber one – and has a domed sapphire crystal. The latter is impervious to scratches and is very strong. Withings also throws in an extra battery and each lasts eight months – no chargers here.
The other key difference is that the Activité is 'Swiss-made'. We'll leave you to debate the point, but the key benefit is you can tell people it's Swiss-made. It's like Champagne versus Cava – they both have bubbles, but you feel superior drinking one and drink the other ironically. The Activité is as much a fashion item as a gadget.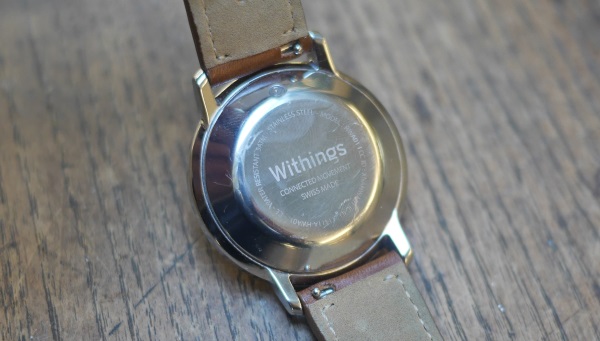 That's where the differences between the Activité and Activité Pop end. They share the same basic watch face design and have the same tracking abilities, which comprise steps, running, sleeping and – in a future update – swimming. Neither, sadly, feature an altimeter, so they can't measure the number of stairs you climb. They're both waterproof to 50m and are dustproof.
The Activité is the nicer looking of the two, though, even if it's by a small margin. The stainless steel finish and leather strap give it a more classical look, whereas the coloured metal and silicone strap on the Pop has a more everyman, Swatch-like appeal. The straps are removable on both, though, so no there's no reason a Pop owner can't buy a nicer leather strap – the width between the strap lugs is 18mm, so there's plenty of choice out there.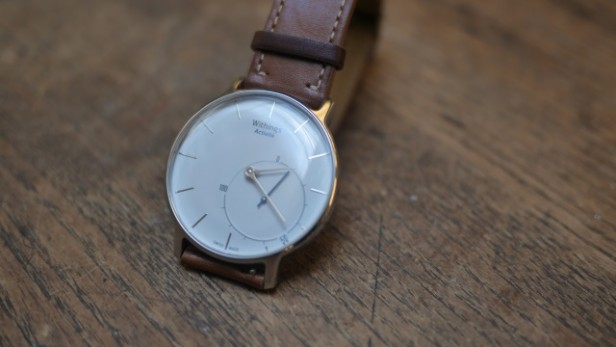 What makes both so attractive is their neat simplicity. The Activité isn't a smartwatch in the modern parlance – it's a 'smarter' watch. Yet the only visual evidence is the smaller dial on the watch face, which tracks your daily step goal progress. It's an elegant, at-a-glance reminder that works perfectly.
There's nothing particularly ostentatious about the Activité, either – a likeable trait. It's stylish and classy, but not in a "look at me!" way. It's also very comfy, in large part thanks to the slim unisex leather strap – I'm not a habitual watch wearer, but the Withings doesn't irritate me the way smartwatches often do.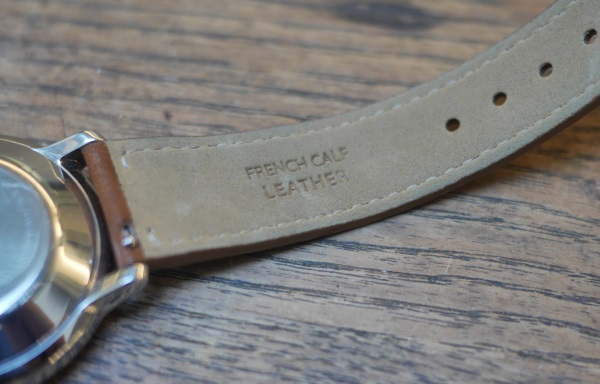 It's debatable whether this is truly a unisex watch, though. It's not huge – the case is 36.3mm in diameter – but ladies with slim wrists might find it a tad large. It also protrudes further from the wrist than you'd expect, thanks to the extra sensors inside. I got used to it quickly, but it's not the best if you prefer a super-slim watch.
But these are just small quirks. If Withings' aim was to create an outstanding watch that just happened to be an activity tracker, it's succeeded.
3
Withings Activité – Setup & Healthmate App
No activity tracker is complete without an accomplished app to go with it. The Withings Healthmate app is just that, but it comes with one huge caveat – right now, the Activité isn't compatible with Android. Withings promises an Android update in the coming weeks, but until then Android users are bang out of luck.
This large oversight aside, the Healthmate app is good. It's not the very best among its rivals, but it delivers where it needs to. It's colourful, easy to navigate and presents information in a straightforward, easy-to-understand way. It also supports Apple Health app syncing, something rival Fitbit has shied away from. Excellent support for third-party services, such as MyFitness Pal, ensures it plays nicely with other apps you're likely to use.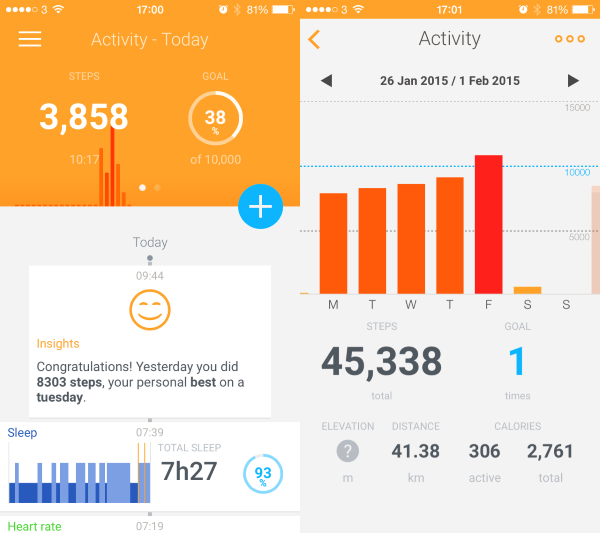 What it lacks is the more proactive, analytical feedback offered by some rivals – Jawbone is especially good for this. For example, it has a section for setting up helpful, life-enriching reminders – such as sticking to a single bedtime, taking a walk after dinner, and remembering to weigh yourself regularly – but it doesn't dynamically prompt you based on your activity.
This means it'll often congratulate you on hitting records, but it won't nudge you when you're falling short, and a well-directed nudge is often more important. Moreover, as most notifications are scheduled, they're also repetitive. The more repetitive they become, the easier they are to ignore and the less effective they become.
Withings wins points for its excellent ecosystem, however. There's a myriad of clever and effective accessories that hook into the Withings Helathmate app, such as the Smart Body Analyzer and Wireless Blood Pressure Monitor. It also has some neat touches, such as the ability to read your resting heart rate using your phone's camera. There's so much room to grow here and the Activité proves that Withings is dedicated to real quality, which shines through in all its products. You could do worse than to invest in the Withings 'health ecosystem'.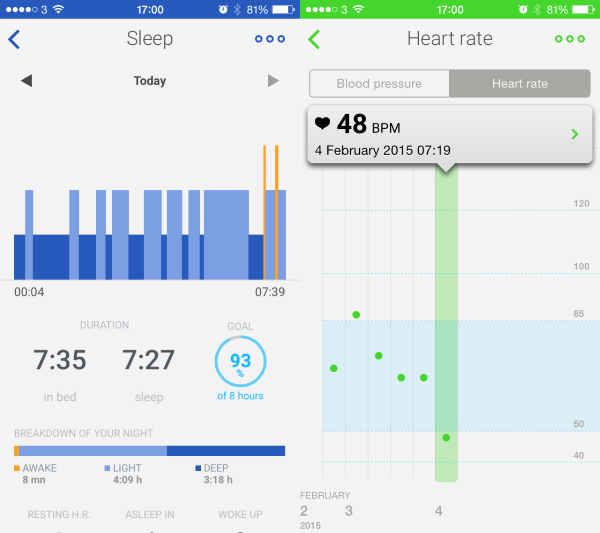 Setting up your Activité is very simple, too. It connects to your phone using Bluetooth 4.0, which means you don't have to anything to setup the connection – the app automatically connects when you open the app. It sometimes takes a little longer than we'd like to make the connection, which is irritating when you launch the app and you want to see the latest data straightaway, but at least there's no messing about involved in making the connection.
4
Withings Activité: Performance & Tracking
We had no problems with the Activité's tracking through our use. It accurately recorded daily steps with great consistency, and did the same for running. It struggles more with 'mixed activities' where you're switching between running and walking – or slouching – but that's not unusual for this kind of tracker.
Sleep tracking works OK, too, though we often feel there's lots of guessing involved in judging light versus deep sleep in all trackers. The total sleep stats are the most instructive and provide a useful guide to whether you're getting enough shuteye. The Activité also features a 'silent' alarm – it vibrates when it's time to get up. This works well enough, though it's quite a light vibration – heavy sleepers may want to set a fallback alarm in case it doesn't stir them.
Our only serious complaint with the alarm system is the inability to set a different one for the weekend. Perhaps this is intentional so you stick to your routine, but waking up at 6:30 on a Saturday morning isn't a routine we're keen on. You can turn the alarm off, of course, but that relies on your remembering to do so, and turning it on again before Monday morning.
5
Other things to consider
One small feature that doesn't work as well as advertised is the 'responsive glass' feature. The idea is you can tap the glass to reveal your alarm time, but it often takes several attempts before the arms actually move.
We do like the timezone feature, though, which ensures the watch will automatically switch to the timezone you're in when your phone does. It's a neat piece of attention to detail and a cool thing to brag about to 'luddite' watch lovers.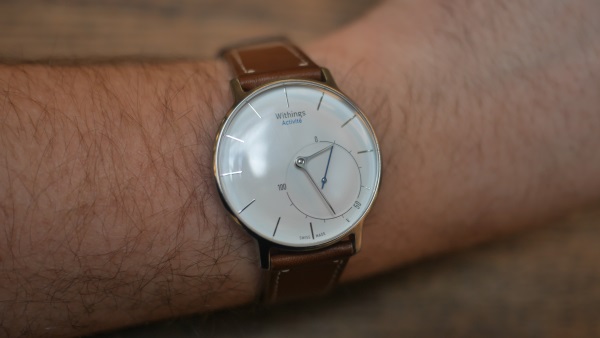 6
OtShould I buy the Withings Activité?
Inevitably, it comes down to whether you think it's worth spending extra for the Activité over the Pop version. The difference in price – £320 vs £120 – is large and the difference entirely down to the design and materials used. A high-quality leather replacement strap and a Pop will still come in at less than £200.
We can't answer that question for you, but we can confirm that the Withings Activité is an exquisitely made watch and a very capable tracker. We love the long battery life, the beautiful and comfortable leather strap, and the faultless build quality. You're paying for quality and getting it.
That may be enough if you value its finer design and 'fashion statement' it makes. If not, go for the Activité Pop – you won't be disappointed either way. If you're less fussed about looks but want a tracker that shows the time and some useful info, take a look at the Fitbit Charge, though the Jawbone UP24 remains our no.1 best fitness tracker overall.
An outstanding and stylish tracker and watch, provided you don't mind the price attached.
WARNING: This product is not waterproof or sweatproof; Activity tracking: steps, elevation, distance, running and calories burned; Wear it your way: clip and wristband included; Vital signs reading: instant heart rate and blood oxygen level; Sleep monitoring: sleep cycle analysis, wake-ups, total...
Deals
Photos
Last comments
I liked it, for the two months that it worked. Be aware if you buy this product that it is not warrantied against SWEAT. I bought it to replace the Fitbit Force that got recalled, and I found the Withings to be pretty accurate but have less functionality and be less consumer friendly...for instance, if I forgot to wear the Fitbit I could add in my exercise on the app and it would calculate the steps it missed, but that wasn't possible on the Withings app. The real issue came when the device stopped working. After several emails back and forth with the company, they said they would send me a form to return it, but they also sent another form that said the device has a sensor inside and if it has detected any humidity, from any liquid including water or sweat, that the warranty is not valid. Well, I wore the thing to run, like I wore my Fitbit, so I guess it was the sweat that killed it. Not really a good option for exercise tech if it can't handle humidity or sweat.
September 8, 2014
I recently purchased the new Withings Pulse O2 activity tracker, (FYI now available for purchase on Withings website) after having to stop using the Fitbit Force, which was taken off the market due to a small percentage of users experiencing an allergic reaction to a metal piece that comes into contact with your skin. (Unfortunately after a few months of use I was one of those people.) I did not own the previous Pulse device.For a quick, short review, the Withings Pulse O2 tracks steps/feet climbed/miles traveled/calories burned, and can determine your heart rate, blood oxygen level, and sleep, which can all be displayed on the device along with the date and time. It can be synced wirelessly via Bluetooth, and you can set goals on the app. I enjoy the device; the 4 out of 5 start review is due to the material the band and clip are made out of, a soft, rubber material that attracts a lot of dust and lint. In comparison to the Fitbit, cannot track steps while in sleep mode or notify you when you've reached your goal. Those are not major reasons for me to stop using it, but since I've used different devices in the past, I have something else to compare to. I recommend this device to anyone looking to own an activity tracker that tracks the info listed, it is easy to use and sync. Below is a more detailed review, breaking down the different tracking options and comparing them with the other devices listed in the summary.I am a Fitbit fan; I have owned most of the different versions of the Fitbit. (Original Fitbit/Fitbit One/Flex/Force) For the most part all of the Fitbit's track the same data, the original and One are clips, and Flex and Force are armbands.Read more ›
April 29, 2014
I recently purchased this activity tracker directly from Withings, and I am less than impressed with it. I am a dedicated walker (approximately 5 miles at a 17 minutes/mile pace, 12,000 steps each day). I have used the Jawbone UP for the past several months, but decided to try something else due to apparent quality control issues with the UP (they break frequently). So far, I find that the Withings Pulse O2 counts only about 40% of steps actually taken and distance covered. This is completely unacceptable for my purposes, so I am planning to return the item for a refund.UPDATE: I have found that how the device is worn significantly affects the accuracy of step counts. I repeated the same walk (route, distance and pace) on two successive days. The first day I wore the device strapped to my wrist and got the following counts: 5,070 steps; 2.13 miles, 286 calories. The next day I wore the device clipped to a pocket near my waist and got the following counts: 11,702 steps; 5.37 miles, 626 calories. The second day counts seem about right. The manufacturer provides no specific recommendations, but apparently the wrist strap should be used only for sleep monitoring. In light of this finding, I have increased the product rating and will continue to evaluate this activity tracker.
April 27, 2014